Mother Of Conjoined Twins Says Hospital Barred Her From Seeing Her Surviving Baby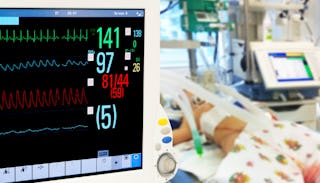 A new mother says a children's hospital banned her from visiting her surviving conjoined twin
On August 26, Amber McCullough went through an unimaginably horrible ordeal when she delivered her two conjoined twin daughters, knowing one of them would not survive. At the time, McCullough praised the staff at Children's Hospital Colorado for keeping her surviving daughter alive, but then she says she had complaints about her daughter's care, and she says that after she complained the hospital banned her from visiting her baby in the hospital, and that's awful. Keeping a seriously ill newborn away from her mother for any reason other than the child's safety is a cruel and terrible thing to do to a newborn who has already had a more difficult life than most of us can possibly imagine.
According to The Denver Channel, Hannah and Olivia McCullough were delivered by C-section on August 26. Olivia died during the surgery to separate them, which doctors anticipated, but which was necessary because if the babies were left attached then neither would survive. Hannah survived the ordeal but was in critical condition.
Amber McCullough, an attorney and Army veteran, praised the staff and the hospital at the time for saving her daughter. In December, however, Amber McCullough complained on her daughter's GoFundMe page about a procedure that she thought had gone wrong and had strained her relationship with the hospital.
"I was terrified and felt like everything was going wrong because it was," Amber wrote. "I had to stand there unheard, blown off, and terrified while my daughter bleed (sic) profusely from her jugular."
Amber maintains that when she expressed her concerns about the procedure to the staff, she was met with anger and defensiveness.
"I said I was concerned with how long it took to call surgery. I said I was concerned with our sense of urgency," Amber said. "The charge nurse took great offense to my concerns and was incredibly rude."
After that, Amber said she filed a complaint with the Joint Commission and the Department of Health to have the incident investigated, but when she filed the complaint the hospital allegedly responded by cutting back her visiting hours to two hours a day. Amber says the hospital told her it was because the nurses did not want to work with her for fear of "saying the wrong thing" or being sued. If so, that's ridiculous. Patients have legal rights for a reason, and it is completely unethical to hold a critically ill newborn hostage to discourage a patient from filing a complaint.
Then, on Sunday, Amber says she told a nurse that she wanted to transfer her daughter to Boston Children's Hospital for a second opinion and treatment there, which she says is because Boston Children's Hospital is one of the top hospitals for Hannah's medical conditions. After that, Amber says Children's Hospital Colorado banned her from seeing her baby at all, claiming she had violated her "behavior contract."
"How is discussing my daughter's transfer with her care team a violation of a so-called behavior contract?" Amber told Fox 31 Denver. "This shouldn't happen to anyone. This is a complete abuse of power and my daughter is sitting in a hospital room paying for it because she can't have mom there."
Children's Hospital Colorado says that it cannot release information about the specific case because of privacy concerns, but asserts that it does not take actions in a retaliatory manner and that, "All of our actions are clinically-based and in the best interest of our patients/families."
After the news got out, Amber says her visits were reinstated at the hospital, and she still plans to move her baby to Boston.