The Internet Is In Love With This Extra AF 'Mother Of The Bride' Dress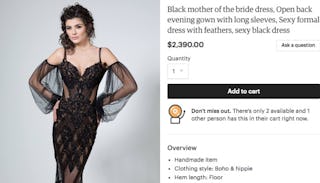 Image via Etsy/Tonena
People are obsessed with this extremely extra 'mother of the bride' dress
Most "mother of the bride" ensembles usually involve some sort of tasteful floral or subtle nude color swatch. Not this "mother of the bride" ensemble. It's designed by Etsy seller Tonena, features black, see-through material complete with feathers, sequins, and dramatic black sleeves, and it's just begging to be rocked by the exact right mother-of-the-bride/groom. Because it's your kid's wedding and you'll wear what you want to, dammit.
Twitter user @_sashayed posted screenshots of the ensemble online and everyone applauded very, very hard for this dramatic, straight-out-of Morticia-Addams'-closet, "mother of the bride" look. "the pure awe i experienced when i saw this was labeled a 'mother of the bride' dress," she wrote.
Here's what you need to know before moving forward with purchasing this dress for weddings, Bar/Bat Mitzvahs, and any other notable fancy celebrations. It has a sweetheart neckline, a sexy mermaid silhouette, and a floor-length hem. If you're not drinking a dry martini and carrying an apple that might poison a Disney princess, you're doing something wrong. This dress is absolutely everything and deserves to be treated accordingly.
"This charming sexy black gown has body colored lining that could be made longer if requested," the Etsy seller wrote. "The sleeves are adjustable and could be moved. It looks amazing as it has a push-up effect. The gown is embellished with ostrich feathers, placed by hand."
I mean…DAYUM. Talk about making a memorable entrance. You'll need appropriate theme music following you all night, obviously.
Genuinely sending just so, so many props to the designer of this epic dress. Inside every mother of the bride is an extra AF woman just bursting to take center stage – ostrich feathers, sequins, drama, and all. Why let your child have all the fun on their big day? It's totally valid to want to look your best and not every woman is made for the traditional "mom" suits usually worn to weddings.
Pictures of the dress made the rounds on Twitter and people had lots and lots of thoughts. Mostly, they made a lot of specific promises about how they would act upon arriving at the wedding, wearing said gown.
"Whoever invites me to their wedding next I 100% promise to (a) wear this dress; (b) show up during the ceremony LATE and LOUD; (c) cause an elegant but terrible scene during the reception; and (d) throw a full glass of red wine on the relative of your choosing during said scene," @gaileyfrey tweeted, adding that – yes – there will be multiple wig changes.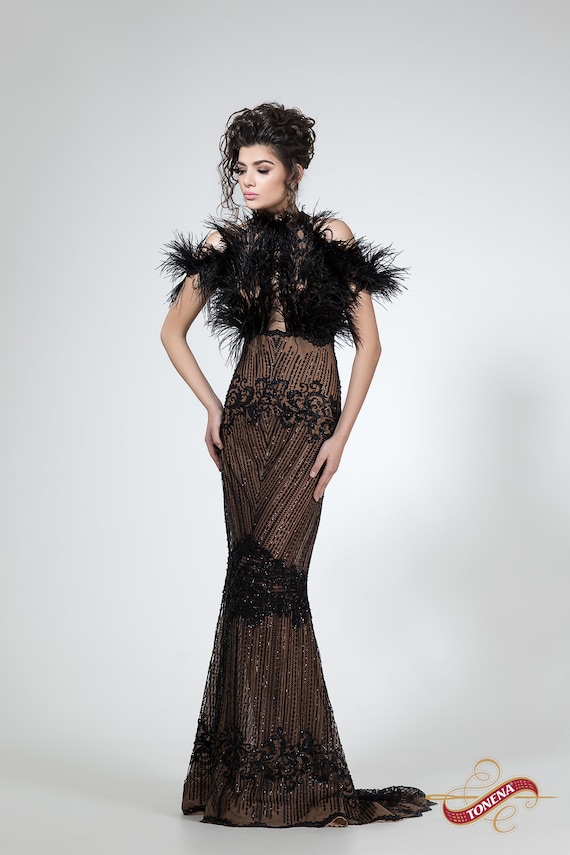 https://twitter.com/jetpack/status/1105275615706599424
If you're loving this style but want to up the wow factor, you can go with this evening gown which doubles as both a "Mob's Wife" and a "Mother of the Bride" dress. Your kids may never forgive you but you will rock those ostrich feathers like no other. Extra long cigarette and dalmation-style coat required.
Here's hoping all mothers of the brides out there are taking notes. It's gonna be a wild, wicked wedding season and we're 100 percent here for it.
This article was originally published on