This Man's Favorite Thing Is A Parade, So For His 21st Birthday His Town Delivered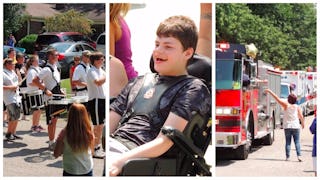 Hundreds showed up to make sure this birthday is one Matthew will never forget
Mothers will do almost anything to see our kids happy. When one mother asked for her community's help to ring in her son's 21st birthday this year, she had no idea how many people would come together to make it a day he would never forget.
Kim Davis-Robinette knows exactly what her son, Matthew, would want out of a birthday party — a big parade. "Matthew turns 21 this week and I want to do something special for him this year," she wrote on a post to her Facebook page. "One of Matthew's favorite things to do is to watch parades. So I want to give him a birthday parade."
Because of his special needs, it is hard for Matthew to travel. Kim asked friends and family to drive by in a parade for her son's 21st birthday, and posted about the parade on her Facebook page.
Kim told Scary Mommy when Matthew was about one and a half he was diagnosed with a chromosome deficiency "which caused significant brain malformation, cerebral palsy, epilepsy and autism." So she decided to bring the party to him.
On his birthday, she and Matthew waited outside her Indiana home and were overcome by what they saw. Hundreds of people passed them on the 90 minute parade, full of marching bands, dancers, fire fighters, and entertainers. There were friends holding "Happy Birthday" signs for Matthew and for those 90 minutes, everyone came together to celebrate.
"Everyone was smiling and hugging each other," Kim told Scary Mommy. "On that day, folks turned their news off and came out and loved their neighbors. It was such an amazing display of kindness and love. It was incredible!"
The parade had a little of everything Matthew loves – "music, Buzz Lightyear, cars, balloon, fire trucks, semis, buses, dump trucks, 4-wheelers, motorcycles, police car, basically anything loud," Kim said. "Parades are perfect for him because he can be as loud as he wants. It is like Disney World for him." They even managed to get the car Dale Earnhardt drove in 1997. "Matthew loves NASCAR," Kim said.
As you can see from the pictures, Matthew's birthday is one he won't soon forget. "Matthew has an infectious smile that will light up a room," Kim told Scary Mommy. Even though he cannot verbalize his thoughts, "when he smiles, you can feel his love. No words are needed."
"The smile on Matthews face and his scream of excitement was his way to show him love back to everyone involved that day," Kim told us. "It truly was Matthew's best day ever."