Let's Play Motherhood Bingo!
by Robyn Welling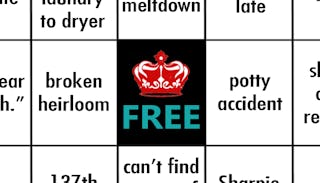 We deserve some fun, so let's play Motherhood Bingo! Every time you encounter one of these phrases or situations, mark off that square. When you complete a row – BINGO! – you've been through enough for one day.
Unfortunately, just like real Bingo, you don't really win anything — you just get to clear your card and start all over. YAY!
Related post: 10 Reasons Not To Play With Your Kids
This article was originally published on