Being A Mother Makes Me A Better Immigration Lawyer
by Tahmina Watson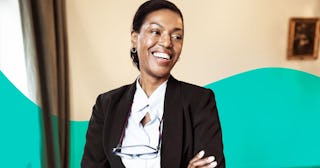 Scary Mommy and Maskot Bildbyrå/Getty
It probably goes without saying that being an immigration lawyer in the era of Donald Trump has been a bit of a roller coaster ride. It's been an emotionally draining fight for my clients against a barrage of xenophobia-driven policies — separating children from their parents, bypassing Congress to establish new, ever more draconian rules — all the while trying to guard my own mental health.
But there's one superpower that it didn't occur to me I had: Motherhood. Being an immigration lawyer mom has supercharged my response to the ongoing immigration law crisis in ways I could not have anticipated.
The birth of my first child, Sofia, now ten, set my heart ablaze. I didn't know that one could love another human being so intensely. That love made my love for the universe grow, and almost overnight I went from being a sympathetic person to being an acutely sensitive, empathic one.
Suddenly, I couldn't watch TV shows that depicted violence against children or watch those commercials about orphanages. I became tolerant of the shrieking, high-pitched cries that only babies can make, and of my own unkempt hair.
I became a better lawyer because I understood all my clients better — the CEO whose child was about to turn 21 and urgently needed a visa; a client whose adopted child was suddenly discovered to be in illegal status because they didn't understand that the law changed decades ago. Once a client's newborn cried so loudly throughout a meeting we had, my poor receptionist a few feet away complained later that her ears hurt. I was completely oblivious.
The bigger realization was that as a mother, I was a more tolerant human being, and in defending immigrants under this decidedly anti-immigrant president, that became my north star.
The inauguration of Donald Trump arrived with unprecedented chaos. Within a week, he had signed an executive order completely shutting out immigrants from seven Muslim majority countries. When I co-founded Airport Lawyer (www.airportlawyer.org) to connect volunteer lawyers with distressed passengers, I was thinking of the parents and families separated from their loved ones.
When I was leading the effort to provide pro-bono immigration attorneys to legal clinics up and down King County, WA, so people could learn their rights, I was driven by the thought that I didn't want to see families split up, children left without parents. My heart broke when news began emerging that some dads were arrested by U.S. Immigration and Customs Enforcement (ICE) when taking their children to school. And my concern for all children grew when the Department of Homeland Security got rid of the "sensitive areas" memo which stated that ICE officers would not go to churches, hospitals, courts or schools to arrest immigrants. ICE started to frequent all of these places.
Oddly, or perhaps in hindsight understandably, I started to have vivid nightmares about children being kidnapped, abused, and much more. I found myself having trouble sleeping. I felt I needed to do more to help children, mothers, and fathers who couldn't help themselves. I felt a calling, an urge, a drive to be prepared for whatever else Trump would throw at us.
And sure enough, in September 2017, Trump rescinded DACA. If it weren't for litigation in the lower courts keeping the program alive, I dread to think of the widespread turmoil that would have ensued. Of course, we are not out of danger as the U.S. Supreme Court is scheduled to issue a ruling around June after hearing oral arguments last November.
Between September 2017 and April 2018, while I was thinking of ways to prepare for future crises, news began coming out from the US Southern border that children crossing there were being separated from their parents. I started to have nightmares again. One included a Customs and Border Protection (CBP) officer shooting a mother in front of her four-year-old child. Several were about children being abused. Soon, there were news stories of children drugged and detained in "baby shelters."
I don't know which came first — my nightmares or the news — but it doesn't matter. Some of my nightmares were so vivid, I couldn't go back to sleep and stayed up working on charts and diagrams for an idea that eventually hatched in April 2017. The plan was to help supplement legal representation to vulnerable detained immigrants. In June 2018, the Seattle area saw 200 parents who had been separated from their children. And all the charts, diagrams and doodles that I had been working on for over a year became a reality – a non-profit organization called the Washington Immigrant Defense Network, or WIDEN (www.widenlaw.org).
WIDEN mentors and trains non-immigration lawyers to expand representation to people in immigration court, with the hope that they can help not only in current trials for those who do not have legal representation, but also provide substantive help in any future crises involving increased detention and deportation. WIDEN may have been conceived by me, but the vision was given life by other lawyer parents who were feeling equally outraged and helpless by the cruelty of Trump's policies.
Meanwhile in my immigration law practice, on a frighteningly regular basis, rules and policy changes are affecting almost all my clients. Parent clients who are in the never-ending green card waiting line are seeing their temporary visas denied due to Trump's over-zealous policies. Once such a case is denied, they cannot remain in the US. Some have had to leave on short notice, pulling their US-citizen children from their schools, friends, and everything they know.
Similar chaos and fear have been instilled by the implementation of the administration's public charge rules, new criteria for legal status based on whether an immigrant uses government benefits or are expected to do so in the future. Parents removed their children from school lunch, medical assistance, and other vital programs, worried that such enrollment would affect their immigration prospects. What's most disturbing is that the public charge rule will absolutely lead to a greater number of denials, because the policy is ultimately geared toward reducing legal immigration.
What I'm experiencing as an immigration lawyer mom is not unique. Motherhood has also invigorated many other lawyers around the country to step up. Some examples include my friend Jill Scott, in-house attorney at a large corporation and one of the first WIDEN volunteers, who recently traveled from Seattle to Matamoros to help children at "Remain in Mexico" camps. Lawyer Moms of America, co-founded by my friends Erin Albanese (also co-founder of WIDEN), Natalie Roisman, and Tovah Ross Kopan, organized virtual and physical lemonade stands around the country (wo)manned by mothers and children raising funds for detained immigrant children.
Nationally, my immigration lawyer friend Fiona McEntee wrote a children's book called Our American Dream after volunteering at her children's school one day. And Traci Feit Love, founder of Lawyers for Good Government, leads 125,000 volunteer lawyers, some of whom are currently at the Southern border helping asylum seeking families every day.
As a mother, these immigration policies have been hard to bear. As parents we can't help but see our own children in every child affected by this president's hateful policies; we can't help but feel the intense heartache of every parent trying to give their children a better, safer life. There is no question immigration lawyers generally, and immigration lawyer mothers specifically, have been suffering secondary trauma. And while sometimes we have to look away from the cruel and punishing headlines, our hearts simply don't have the ability to turn it off.
This article was originally published on