10 Ways Not To Lose Yourself While Raising Young Children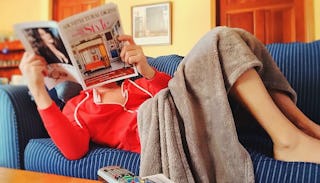 Wokandapix / Pixabay
Over the years, I've had to adapt and learn how to maintain who I am while being a wife and a mom. It's not always easy, especially because everyone else comes before you. As a parent, you are constantly thinking about your children. They are all-consuming in your thoughts, mind, and being. For a small period, you are the only world your kids have, and those are pretty big shoes to fill. You can't take a break when you want. You can't pick up a book when a newborn is hungry or ignore a toddler who wants help painting. I mean, you could, but I don't have to tell you what happens to your brain when a baby doesn't stop crying. I also don't have to tell you what happens when you leave a toddler unattended with paint and a brush.
It can be a lot for a gal (or a guy). It's hard to fill the needs of others and still have time to fill your own needs. It's also hard to fill everyone's needs if you aren't filling your own. Before you know it, you're wondering how you ended up here, where that eye twitch came from, and what happened to the person you were before motherhood. Here are a few ways I've helped me help myself:
1. Find interest groups.
For me, this was social media because I was held hostage for five years of my life by nap times and feeding schedules. It's easy to access, and you can access it from anywhere. Interest groups let you talk knitting all day with other knitters about knitting things. Sometimes you and these knitters become friends. Sometimes they're just other knitters you know and talk to. Which is fine, because at the end of the day mohair is mohair, and you all love it.
2. Stay in touch with friends.
My offline friends, the people I've known for years, are the heart and soul of who I am. These are the people who were there before I sported the smokey eye look — that's just a reflection of the bags under my eyes. These people are all still around, despite not living in the same state or having kids themselves. They are the family of folks who celebrate me as their friend. Not as a wife, a mother, an appointment maker, or a sticky-spot-on-the-floor-finder. Keeping in touch with these friends can be difficult under the daily demands of life; often there's lag time between calls — like seven or eight months — but even a text message conversation every week is enough to help me stay in check.
3. Hobby it up.
For me, this is writing. Writing is the one thing I do that's mine. It's not shared. It's not for anyone else. It's not an item on my list of things to do. My writing is who I am as a person, my daily life and thoughts expressed and orchestrated in a fun, creative, and real way that serves as both an outlet and something that can fill my "me cup." I enjoy it so much that even if I only have 10 minutes, it makes me happy.
4. Leaving kids with the spouse to go do you.
Sometimes you gotta go away, alone, where no one will call you 47 times in 20 seconds. No one knows you at Target. No one needs your help there. You won't have to yell quietly at anyone to stop touching things in the bookstore. You know the one where you're whispering so loud you sound like the air brakes on a semi. Go do you, quietly somewhere. Go have coffee without the need to chase a child out of the employee break room.
5. Use a babysitter.
I know, I know, easier said than done. On average, you would have better luck finding a gaggle of geese more fit to watch your children than a sitter under $25 an hour. I used to use our rec center child care. It cost me less than $4 for two kids, for one hour. The ladies were nice, the room had toys, and I was sold. An hour doesn't seem like a lot of time, and I couldn't leave the building, but I can't begin to tell you how rejuvenating an hour drinking coffee and watching a brick wall can be — just because I could.
6. Read.
I've never been a voracious reader, but I've always enjoyed the escape. I'm just now going back to this after almost six years, one chapter a night before bed with a book I enjoy. On the nights I can't, I read my kids two extra stories before bed. Because everyone loves a bedtime book, we both get lost in Seussville together.
7. Inviting my kids to get to know me.
Sometimes there is no time for me. That's the nature of the best. On those days, I try to pull my kids into doing things I enjoy like drawing, painting, or other creative things. Most days it's a treat for us both if I'm not working dishes and laundry into a game of Hi Ho! Cherry-O. Sometimes that time is just a walk up the street and back sharing stories or playing "I spy."
8. Listen to music before bed.
Pandora has spa music stations. It's like a relaxing escape in ear buds. You're welcome.
9. I'm Mom, but I'm also Me.
It's important for my kids to know that Mommy has dreams. Mommy has a sense of humor and is all the things she is, in addition to being a mom and doing mom things. So, sometimes we bunk the schedule for the day and kiss the routine goodbye to go to the zoo or have ice cream for dinner because, really, who doesn't love ice cream.
10. Remember it's not forever.
Someday those chickadees are going to fly the coop. You'll be on your own with time to thumb-twiddle the hours away. Your house will stay clean, and no one will interrupt your hot cup of coffee on the back porch in the morning.
It's those years, the ones too far ahead to see, that you get to be you all the days, every day. You can pick up a book, go for a walk, and paint the day away. Until then, you do what you need to do for your family. But don't forget about you. You matter. You are someone. Go fill your cup, leave your kids with their dad, and shop for some actual makeup for the real smokey eye look. Alone.
This article was originally published on