I Used To Be A Patient Person...But Then I Had Kids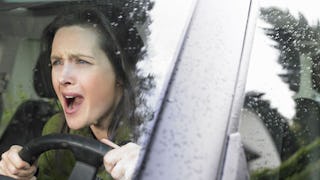 Ghislain and Marie David de Lossy / Getty Images
I used to be a patient person.
Really.
Frankly, there was a time where I wouldn't bat an eye if I had to stand in a long line at Starbucks or if a driver in front of me was taking his sweet time tooling down the road. I never felt exasperated when my husband would tell me a long, drawn-out story and the sight of his underwear on the floor simply made me shrug my shoulders.
I didn't even fast-forward through commercials, for god's sake.
Yes, those were the days.
Those were the days when I didn't wear a perpetual "WTF?" look on my face.
The days when my blood didn't boil at the sight of a long line at the DMV when I only had 45 minutes before school pick-up.
The days when my head didn't explode on the regular at the sight of my laundry room. And my kitchen. And the floor of my car.
Excuse me for just a second.
WOULD YOU HURRY UP?! BALLET STARTS IN 10 MINUTES.
Ahem.
What was I talking about? Oh, right. Patience. Or more specifically, my lack thereof.
Since I've had kids, my patience has been worn to a paper-thin remnant of what it once was, and as the saying goes, I am on my last nerve, and all of humanity is pretty much stepping on that nerve 24/7.
The emotional and physical load of motherhood has literally sucked every single ounce of saintly patience I had right out of my veins.
In fact, I'd venture to say that, even on a good day, my patience level hovers somewhere around "This mom is gonna blow at any single minute, so I suggest you start hustling DMV dude."
Just a minute, if you don't mind.
FOR THE LOVE OF ALL THAT IS HOLY, GET OFF THAT XBOX AND DO YOUR HOMEWORK.
Sorry, where was I? Ugh, I lost my train of thought. Oh, yes. Patience. It's a virtue and shit.
Just ask me about the time I lost my patience in front of my neighbors while wearing a terry cloth bathrobe and slippers after my son missed the bus. Or about the time I screamed like a banshee at my husband and parents when I discovered that our turkey was frozen on Thanksgiving morning and we had 20 people coming to dinner.
Ask me about any of the nine million times I have attempted to complete a simple task like folding laundry or paying bills only to be interrupted by a dog that has run through fresh asphalt or kids who have given themselves a concussion because they were WWF wrestling in my upstairs hallway.
YOU DIDN'T TELL ME YOU NEEDED YOUR GYM UNIFORM WASHED.
Sigh.
Mothers do not have time for anyone's shit, people.
We are on a tight fucking schedule because every damned thing takes 96 extra steps because kids are assholes and don't understand that putting socks on should not take 20 minutes.
And even when we factor in time for our toddler to decide to poop right after she's strapped into her car seat or we add extra time for our teenager to realize at 10 p.m. that he has a major project due in the morning, we still can't get ahead.
OF COURSE THE WASHING MACHINE BROKE TODAY. WITH SEVEN LOADS OF LAUNDRY ON MY FLOOR. AND A DIRTY GYM UNIFORM.
Because it's always something.
Someone is always waking up puking. Or having a tantrum in the grocery aisle. Or interrupting conference calls and making national embarrassments of us because we just want five fucking minutes to sound professional AF while making a television appearance (seriously, I still feel bad for that mom).
Every single day, mothers everywhere have a giant wrench thrown into their plans because kids make it impossible for us to have patience. And nice things.
We've earned our impatience, goddammit.
THE WASHING MACHINE REPAIR GUY WILL BE HERE BETWEEN 8 A.M. AND 8 P.M.? AWESOME.
Mothers have earned the right to feel annoyed when that parent replies all 15 times to the classroom party email. Wading through seven emails just to find the details on how many juice boxes I need to send in makes me lose my patience.
And I don't give a flying fuck if my annoyance is written all over my face when I'm impatiently waiting for the woman in front of me to debate how much Kohl's cash she has left after a return. Seriously, no one cares about your Kohl's cash, lady, so step aside because my carpool duties are calling.
Am I proud of my motherly impatience?
No.
Should I embrace a Zen lifestyle and go with the flow instead of letting the constant chaos around me cause me to blow my stack?
JESUS CHRIST, SCREW THE GYM UNIFORM BECAUSE I AM UNABLE TO EVEN. JUST GO NAKED FOR ALL I CARE.
Probably.
But if I've learned anything as mother, it's that patience does not come with the job.
Kids make everything harder.
And slower.
And stickier.
Nothing is easy with kids. Absolutely nothing.
Everything is a process and an argument and a discussion, and moms have long since kissed their patience goodbye.
If anyone needs me, I'll be impatiently waiting for the washing machine repair guy to show up.
I GIVE UP.