I Had An Aneurysm Rupture In My 30s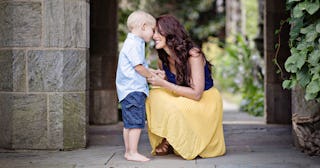 Courtesy of and Cynthia Davis and Leave It To Me Photography
At the age of 34, I suffered an aneurysm rupture on the right side of my brain, then a stroke on my left side, then my brain began to swell.
Ten months have passed since my initial rupture, and I have had eight other surgeries and many complications since that night. Now that I almost have my full life back and I'm doing very well, I think back on the things I have learned throughout all this.
I could go on and on about the importance of family, and how you learn who your real and authentic friends are. How we are all here on borrowed time, and how things can change in a second. How we should all love each other a little deeper, be a little kinder to one another, and hug each other a little tighter. How vitally important one more book, one more kiss and one more "I love you" with your little one has become.
I am a mother to a brave five-year-old boy who saw me collapse at his feet when my aneurysm ruptured, and who sees the progresses and setbacks of recovery firsthand every day. He has also seen me smile, dance, laugh and even cry throughout all of this.
My biggest lesson in all of this was the importance of being prepared.
How can you be prepared for an aneurysm rupture or any other tragedy? That's the thing. You can't, not any more than being diagnosed with cancer one day or being hit by a bus. But you can make sure your family is put at ease in the face of the worst case scenario.
At the time of my aneurysm rupture, I was a perfectly healthy 34-year-old single mom with a home, a career, and a beautiful son. My biggest worry was finding a babysitter so I could maybe go to dinner with my girlfriends one night.
I didn't have a Living Will, a Power of Attorney, or a Last Will and Testament.
When my brain began to swell, I needed emergency surgery to remove part of my skull. The doctors took my family into a private room and told them that they didn't know if I'd make it through surgery.
At that point, my family was forced to ask questions that they couldn't answer: What about her bills? How does she want to be buried, or does she want to be cremated? What should we do with her belongings? What will happen with Bryce?
Luckily, I pulled through and those questions didn't have to be answered – at least not by them. After one of my more serious complications in February 2019, when I was well enough, I executed a Living Will, a Power of Attorney, and a Last Will and Testament. Now at least I know that my son will be taken care of and my family will have peace of mind, knowing that they won't need to answer those tragic questions.
Dear moms, dads, and guardians, my plea to you is to be prepared. Whether you're a single parent, a single parent with a successful co-parenting relationship, or a happy, healthy couple. Whether you're a parent in your 20s, 30s or you're over 40. Whether you go to the doctor on a regular basis and are perfectly healthy, or if you have millions in your bank account, or just $200 in there.
Get yourself prepared! I used to think a Power of Attorney, and a Last Will and Testament were for people with estates and millions in their accounts. But I was wrong. They are, and should be, for everybody who wants to leave their family with the answers mine didn't have.
So please visit a trusted lawyer, or find online resources, and get these documents completed.
And also, please remember that family and your authentic friends are everything. Love each other more, be a little more kind to one another, hug each other a little bit tighter. We are all here on borrowed time. Oh, and always try to read one more book to your little ones before bed, and go in for one more kiss and for one more "I love you" before you call it a night.
We are Scary Mommies, millions of unique women, united by motherhood. We are scary, and we are proud. But Scary Mommies are more than "just" mothers; we are partners (and ex-partners,) daughters, sisters, friends… and we need a space to talk about things other than the kids. So check out our Scary Mommy It's Personal Facebook page. And if your kids are out of diapers and daycare, our Scary Mommy Tweens & Teens Facebook page is here to help parents survive the tween and teen years (aka, the scariest of them all).
This article was originally published on