A Mother's Travels: Practice For Letting Go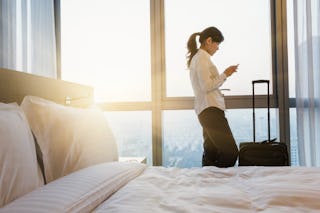 chinaface / iStock
I'll never forget my first day back to work after having my first daughter. It was six weeks and four days after she was born. We agreed that my husband would drive her to the sitter's house because I didn't think I could do it. After kissing and stroking her face for 10 minutes in the car, I finally closed the door. My husband turned to look at me through his open driver's side window. "You OK?" he asked.
I nodded, and he pulled away.
I stood in the street like young Mae Whitman in the movie Hope Floats when the dad drives away. I wanted to scream for them to come back—my arms ached to have my baby back, my feet wanted to pound the pavement and race to the car. But I just stood there, shoulders shaking as I sobbed. I swore to myself that I'd never be away from my baby again if I didn't have to be.
It's been almost 12 years since that day, but I've never completely forgotten how it felt.
My husband and I have managed to schedule a couple of overnights together here and there, which have been great, if eerily quiet. Sometimes we'll go out to dinner somewhere that doesn't offer paper tablecloths and a cup of crayons. Sometimes we'll hit the gym. We talk uninterrupted, hold hands, and revel in the prospect of sleeping in past dawn. It's good for us to have time that takes us back to where it all began and to see that we are still the same two people who fell in love all those years ago. When it's time to pick up our daughters, we feel reenergized.
A few years ago, I planned to attend a writing conference. The girls were upset, clinging to my legs and looking up at me with eyes brimming over with tears despite the talks we'd had in the days and nights leading up to my departure.
I bit my lip, hesitating as I watched their matching blue eyes, somber and pleading. After another 10 minutes of hemming and hawing, my husband finally shooed me out the door. I drove the 45 minutes to the train station and then spent the four-hour ride to New York City fighting back tears. It felt unnatural to be without my kids; a part of me wished I were wearing a badge that proclaimed "I have 3 kids!" Another part of me worried that if people knew I was happily traveling without my kids, they'd think I was a terrible mom.
I felt their absence like phantom limbs. Walking through the hotel, I half expected to see them in the reflection with me. We all survived my excursion to the blog conference, but I waited a full year before I left town again.
Last week after spending a week together in Washington over spring break, I flew to another conference in California while my husband flew back to New York with the girls. They knew that I'd been nominated for an award and were eager to participate in the experience. They'd helped me pick out an outfit for the awards ceremony, and my eldest even lent me a silver purse to carry. "So you'll think of me and have me with you," she'd said as she lovingly packed it in my suitcase among the rest of my things.
This trip felt different. I was excited to visit with new friends and to experience a night of dressing up and excitement. I took extra time after my shower to slather the complimentary hotel lotion all over my legs and woke up early to go for a run without worrying about waking anyone up. It wasn't that I didn't miss my kids—it's just that it felt so good to be…alone, for once.
The difference now, after 12 years of parenting, is that now I know that I need this. I need time away, time to exist as an individual and not merely an extension of my family. I talk a lot about wanting to be a positive role model for my daughters. If I never take time for myself, if I never portray a life that extends beyond the points of work, school, home, and the grocery store, then what kind of role model am I?
Do I still feel a pull to be at home? Yes, I admit it, I always do. But am I glad I seized the opportunity to spend two nights in California soaking up writing wisdom and hearing from people I respect? You bet.
Do I believe it will ever be possible to travel without that deep, phantom-limb ache, without wondering if I am being selfish? Absolutely not.
I think that gestation, whether in our bellies or in our hearts, is something that stays with us. The sensation of having wanted and waited for something, someone, for so long, means that once you look into those eyes, feel that small hand in your own, a part of you always feels like you don't ever want to let go.
But we do, because, after all, that is the point. We take these small journeys, we allow ourselves to come and go, come and go, again and again and again—for hugs, for I love yous, and for sharing stories of the adventures we had and the ways in which we remembered we love one another. These little journeys are merely practice runs for the day when it will not be me who is leaving, but my children.
This article was originally published on