Motorized Pool Float: Because Winter Is Long And You Deserve This Sh*t
by Valerie Williams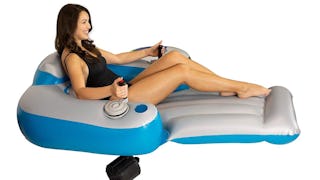 Image via Amazon
Make this summer extremely extra by purchasing your very own motorized pool float
Winter won't end this year, am I right? I walked outside yesterday — it's practically mid-April, keep in mind — and the miserably cold air stung me right in the face. I'm about ready to run away from the endless winter hell I'm in and at the moment, all that's getting me through is knowing I can spend the whole summer buzzing around the community pool like a lunatic in this motorized pool float.
Oh yes, it's real. And it's spectacular.
This extra AF summer swim accessory comes to us courtesy of (who else?) Amazon. It's a little on the pricey side, but we think once you see it, you'll agree it's well worth the kind of stunning amount of actual money that it costs. Look. At. It.
Yes, it has dual controllers and actual real-live motors. No, it's not powerful enough to help you escape to the nearest deserted island this summer when your kids are driving you nuts. However, it can be used in both pools and lakes, so that's a huge bonus. Here's a helpful video that shows just how easy it is to assemble and use.
A few important things to note: it has cup holders, it can hold up to 300 pounds (so you can gather your children when they're misbehaving and drive them the hell out of dodge to a nice, long, minivan time out), and it's pretty safe due to the handy grills that go over the motors. The motors, by the way, aren't like, full of oil and danger or something. They're pretty much just fans. Of course, your kids still might find a way to make it a hazard so definitely plan to supervise its use or just never let them get on it because you're an adult and supposedly in charge. LOL.
Just think of the possibilities. You can speed from the suddenly freezing-cold shady spot at one end of the pool to the toasty warm sun at the other. You can rush over to whatever side includes a fellow adult serving alcoholic beverages and get a much-needed refill. You can discipline your kids scarily quickly thanks to the float's 360-degree movement capabilities.
That's right. Think Paul Blart, mall cop. Only you're a mom and the pool is your jurisdiction.
Still not entirely sold on the whole $200 tiny motorboat in your pool idea? Good thing the internet has a number of plain ol' pool floats that merely drift along lazily with the breeze. Did we say plain? We meant plain adorable.
Like this delightfully whimsical rainbow unicorn float. We feel more magical just looking at it.
Or maybe make it Taco Tuesday every night of the week with this very delicious-looking floatie. Look how excited this woman looks — all she needs is guac.
Just grab a pitcher of margaritas (and maybe a poolside nanny so you can actually relax) and you'll be all set for summer.
This article was originally published on