Mom Writes 'Mouse Ears For Everyone' -- A Disney Guidebook For Visitors With Special Needs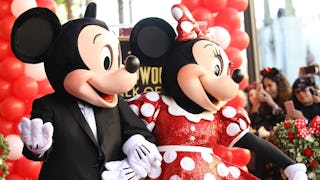 Michael Tran / Stringer / Getty
There are dozens of different Disney guidebooks — guides for kids, dining, saving money, and even guides for runners — but before Amy Schinner's "Mouse Ears for Everyone" there were no guides for families with disabilities.
Schinner, a former Disney employee and mother to two children, including a son with autism, was shocked by the lack of guides and information available for families with disabilities. "After I searched online and still didn't find the information, I decided I need to write this book and help get this information out for families that want and need it," Schinner told The Mighty. "So basically, I was frustrated that yet again our community wasn't represented and decided this was something I could fix."
Schinner's guide, which originally began as a guide for families with autism, covers most aspects of disability including developmental delays, sensory issues, mobility challenges, food allergies, service animals, hearing impairments, and other medical needs. To gather information for the book, Schinner used her experience from 25 trips to Disney, as well as interviews with families, Disney employees, and Disney cast members. For the topics she might be missing, Schinner invites others to send her feedback through the "Mouse Ears for Everyone" website.
"Disney is accessible, but not all aspects are accessibly friendly," Schinner explained. "For example, some queues aren't wide enough for [electric conveyance vehicles] so you need to transfer to a traditional wheelchair that they supply. There are attractions you need to lift family members into, but there are also rides that don't require you to transfer out of your chair at all."
As for resorts, Schinner said some are more accessible than others. "For example, I love the Caribbean Resort for the pool and access to busses, and if you were looking at a deluxe resort I would recommend you not choose Disney's Boardwalk."
For parents who feel Disney might not be accessible enough for their family, Schinner says it's possible to adjust your trip to fit your child's needs. "Every little thing might not be perfect, but it will be magical," she said. "It will require a little more prep and probably a set of [noise-canceling] headphones, but Disney has world-class customer service, and it's their priority to meet everyone's needs."
Schinner recommends preparing kids by showing them videos of the attractions, resorts, and parks ahead of time. "This will help them understand that Mickey is not the size of a normal mouse and rides can be dark," she added.
This post previously appeared on The Mighty.