How My Life Is Like A Crappy Ending To A Good Book
by Andrea Remke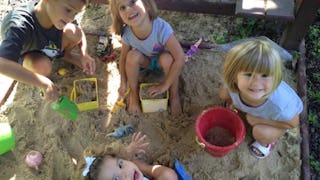 Andrea Remke
You know when you are reading a really good book and you don't want the book to end?
The kind where you can't wait to get to each chapter? But then sometimes the book has a really crappy ending and you are left sitting there saying, "Seriously? That can't be it."
I suppose sometimes if the book has a sequel, it can redeem itself. Maybe.
This is how I'm feeling as I pack up the last box to leave this home. We're at the end of our chapter here. We're closing this book. The kids and I are moving from a house my husband and I bought five years ago, with the promise of "never moving again." It was supposed to be our "forever home." We had four kids under the age of 6 when we moved in. We were so happy to have found a home in my husband's childhood neighborhood and only a mile from the school we wanted our children to attend.
The yard here was huge, perfect for kids to run around in. Countless shoes lost a battle to the dirt and mud in the creek and woods behind us. The well-worn wooden playset and sandbox here saw action every single day—or at least every day that it wasn't raining, snowing or 30 degrees out. The kids drove me nuts chasing the dog up and down these stairs, scratching up all the hardwood floors along the way. Daddy riled up and wrestled with the kids on these carpets (precisely at bedtime, of course).
Lots of diapers here. Lots of Band-Aids. Lots of Legos probably lost and buried in the bowels of this home (as the new owners will soon find out). Memories of bare feet, sidewalk chalk and popsicles in the summer and snow angels and snowball fights in the winter here.
The dark cherry kitchen cabinets and outdated tile backsplash here were going to get an HGTV-style facelift, too. I was hoping to one day channel my inner Joanna Gaines to make this a gourmet kitchen for cooking, baking, and entertaining (actually, since I suck at cooking and baking, it was probably just going to be an entertaining kitchen).
We were going to add another bathroom upstairs so the girls wouldn't have to share one sink as teenagers. That stupid swingset was supposed to one day be the very spot where we'd put in a pool for the kids to splash around in with friends for the rest of our summers in life.
But if I've learned anything in 42 years, it's that you shouldn't get your hopes up and make too many plans in life. Because life doesn't let you make plans. The chapters aren't written by you.
This chapter here ends with the reality that no more kids need diapering. No more children will be learning to ride a bike. Santa Claus is just a fairy tale now to (at least all but one of) them. Someone else will get to decide whether to put a pool in here. My kids' father isn't here to see his daughters at the top of this staircase banister all dressed up for prom night in 10 years.
We're at the end of this chapter. It seems like a crappy book, doesn't it? Her husband f*cking dies, her kids don't have a father anymore, she's got to move 800 boxes out alone and she never even got to swap out that hideous tile backsplash. This can't be the ending.
I don't know the next chapter. I don't know if it will be happy or sad. I don't know how many more moves we will make or if this one will be the last. I'm sure wherever we go there will be Band-Aids and Legos and scratched hardwoods and infinite memories of the best daddy there ever was.
But I hope, my friends, that I get a sequel. I hope I can find a way to redeem this crappy ending. I'm not going to try and control it. We're going to do our best to live out a bestseller from here on out. Thanks for reading along though, as our chapters write themselves.
This article was originally published on