Orphaned Best Friends End Up Living 2 Miles Apart In Amazing Twist Of Fate
by Valerie Williams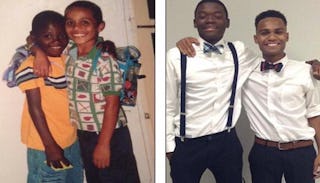 Image via Twitter
Orphaned best friends from Africa end up living in the same Arizona town with their adoptive families
If for some reason you needed your heart to grow five sizes today, look no further. This story will make that happen. Two orphaned boys in Mozambique forged a lifelong bond amid unbelievable hardship and once they were adopted by American families, the most incredible thing happened.
They found themselves living only two miles from each other in an Arizona town. Here is the pair, as young children in Mozambique and today.
What were the chances, right? This story is absolutely incredible and will probably make you cry. You've been warned.
According to Huffington Post, 18-year-old best friends Kelvin Lewis and Afonso Slater do everything as a pair. The teens are both Eagle scouts, go to the same school, play on a soccer team together and are planning to go to Brigham Young University this fall. They'll be roommates, of course.
Their preternaturally strong bond is based on a life that began with heartbreaking struggle. Orphaned in Mozambique as young boys when their parents died of AIDS, they relied on each other for comfort and friendship while living at the same orphanage. Their families were friends before their parents passed away and as Kelvin's mom LaCinda tells Huffington Post, their relationship is a very special one as a result of their shared experiences.
"Their very tight friendship makes perfect sense and is the reason that they are more like siblings than just friends."
These brothers went through a lot of heartache before being adopted by families that lived practically next door to each other. Through a series of obstacles thrown at their parents throughout the years-long adoption process, the boys leaned on one another. LaCinda says, "They had so little but they had each other and that sustained them."
Are you sobbing yet? Just me? OK, moving on.
Of the six years of difficulty it took to bring the boys home, LaCinda says, "We had no idea that Mozambique did not have an adoption agreement with the US or any country for that matter. What we were trying to do was foreign to them."
Throughout those years of the Lewis and Slater families making trips to visit the boys and pleading with the Mozambique government to allow them to take them home, they had each other for support. It was also during one of those of visits that the Lewis and Slater parents discovered they were adopting boys who had been friends their entire lives.
When Kelvin and Afonso came to live with their adoptive families in Arizona in 2008, their families decided to throw them a surprise reunion in light of the discovery that the boys had grown up together and now had each other for life, living in the same town and attending the same school. They captured the amazing moment in this adorable video.
After everything they'd been through together, ending up in the same town is the best example of fate swooping in to make everything as it should be. They lost their parents so young and forged a little family of their own amid total uncertainty of what the future would bring. They now have their whole lives to revel in the crazy twist that brought them back together. Hopefully, forever.
Kelvin tells People, "We talk about growing old, like sitting on our porches in a rocking chair, and living next door to each other, having our kids be best friends. We're definitely more than friends, we're brothers."
Of the way things so beautifully worked out, Afonso says, "The only way this makes sense to me is that there was a higher plan for our friendship to last. I needed Kelvin back in Mozambique, because we relied on each other for comfort. And I can't explain it, but it just made sense that he would end up in Arizona too."
And anyone reading their incredible story of "brotherly" love and friendship are undoubtedly thrilled it turned out this way too.