This 4-Year-Old's 'Mrs. Doubtfire' Birthday Party Wins Everything, Dear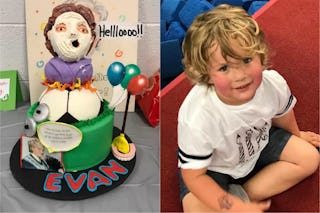 Image via Laura Kowalski
Can we just go ahead and plan on stealing this kid's Mrs. Doubtfire party idea for our next birthday?
Mrs. Doubtfire may have come out 20 years before Evan Kowalski was born, but he's now viral proof that the Robin Williams classic stands the test of time.
Four-year-old Evan watched Mrs. Doubtfire for the first time about six months ago, his mom, Laura Kowalski, told Buzzfeed, and loved it so much, he wanted it to be the theme of his May 13 birthday party. Laura, being the coolest mom on the internet today, made it happen.
"I started showing him some of my favorite childhood classics and found that he enjoyed them, so about six months ago, I showed him Mrs. Doubtfire and he loved it," Laura explained. "I didn't think it would be enough to make him want a Mrs. Doubtfire–themed party, but apparently he did!"
There was a little problem: Apparently, Mrs. Doubtfire themed birthday parties are not nearly as popular as they deserve to be, so there was nothing on Etsy that fit the theme. Even Pinterest was devoid of inspiration, Laura said. So she enlisted the help of her cousin, an artist, to get creative with the details. Together, they created decorations and party favors featuring portraits of the famous titular character, complete with a couple of her catchphrases.
For food, they served fruit kebabs, accompanied by a sign declaring them "a run-by fruiting."
But the real star of the party was the cake, made by local baker Cakes by Sweetypants. The multi-tiered masterpiece featured iconic references to the movie, like a broom and dentures, and, on top, Mrs. Doubtfire herself, from the famous face cream scene.
"When we brought the cake out, the parents at the party literally swarmed the table to take pictures," Laura said. "I wish I had thought to take a picture of that!"
We've already seen a Costco themed party and a poop themed party, but this party may just take the cake, dear.
This article was originally published on