Notre Dame Coach Goes Viral For Response About Her All-Female Coaching Staff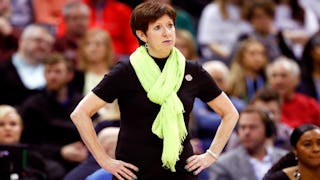 Image via Andy Lyons/Getty
There's a powerful video of Notre Dame women's basketball coach Muffet Mcgraw talking about gender equality
Last week, two-time championship winning Notre Dame coach Muffet Mcgraw celebrated her team's victory over the University of Connecticut. When she sat down for a press conference, she gave a powerful, two-minute-long speech about the lack of women in power. It quickly went viral and many, many women applauded Mcgraw for speaking out on such an important issue.
She was asked about her commitment to only hiring female coaches for her staff. Because there's already more than enough men in the world of athletics, she responded that she's pretty done with the lack of female leaders across different professions.
"I'm getting tired of the novelty of … the first female governor of this state. The first female African-American mayor of this city," she said. "When is it going to become the norm instead of the exception? How are these young women looking up and seeing someone that looks like them, preparing them for the future? We don't have enough female role models. We don't have enough visible women leaders. We don't have enough women in power."
"When you look at men's basketball and 99 percent of the jobs go to men, why shouldn't 100 or 99 percent of the jobs in women's basketball go to women?" Mcgraw asked. "Maybe it's because we only have 10 percent women athletic directors in Division I. People hire people who look like them. And that's the problem."
*Pause for a brief moment of uproarious applause.*
She noted that men "run the world," have all the power and make all of the decisions. That's a really dangerous message to send to young women.
"…These girls are coming up, who are they looking up to tell them that that's not the way it has to be?" Mcgraw said. "And where better to do that than sports? All these millions of girls who play sports across the country, they could come out every day, and we're teaching them some great things about life skills. But wouldn't it be great if we could teach them to watch how women lead."
Mcgraw's words resonated big time. Athletes and non-athletes alike took to Twitter to applaud the coach for her eloquent, thoughtful, and important words. "My hero," Melissa Lechlitner, former Notre Dame point guard, tweeted. "Proud to have played for this amazing leader."
Incoming Notre Dame recruit Sam Brunelle told The South Bend Tribune: "I aspire to be like her one day. She stands for women so much. She has a huge voice to help give us women more of a platform."
Even Barack Obama got in on all of the applause. He tweeted out the video and wrote: "A voice everybody should hear."
So, what's the one big, important takeaway from McGraw's completely ~fire~ speech on the lack of female leadership?
"I think women across the country in the last few years have just said, enough," the coach said. "Time's up. It's our turn. If it's going to happen, we have to do something about it."