It Just Keeps Coming: Alex Murdaugh Now Admits To Paying 'Suicide' Hit Man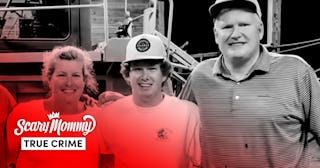 TODAY/Youtube
We left the South Carolina Murdaugh family in tatters. More than three months after former Gamecock sorority sister Margaret "Maggie" Murdaugh, 52, and her son, Paul Murdaugh, 22, were shot dead execution-style outside the kennels of their hunting lodge, the case had gone cold. Their family patriarch, Randolph Murdaugh III, had died three days later. After months of nothing, the Murdock dynasty's hand-picked successor for 14th district solicitor, Duffie Stone, had mysteriously recused himself from the case. There was a dead maid. South Carolina Law Enforcement had re-opened their investigation into the death of Stephen Smith, who died mysteriously on a lonely road — a death rumored to have ties with the Murdaugh family.
Then, as if that wasn't enough, even more hell broke loose.
Pause for a second. Now, conjure a man of privilege, a man perpetually ruddy with sunburn, hard liquor, or the South. His family served as solicitors for South Carolina's 14th District from 1920 (a mere 55 years after the 13th Amendment abolished slavery) to 2006 (3 years before Obama's election as president of United States). He owns a 1770 acre property sprawling between both Colleton and Hampton counties, which includes something called a "hunting lodge." This property has a name: Moselle. His dead son had been indicted in a felony boating accident which left one girl dead (say the words "felony boating accident." Hear the reek of privilege, or perhaps Arrested Development). His double chin quivers above a seersucker suit. He has been summoned from a Pat Conroy novel, and not a good one.
This is Alex Murdaugh, who found his wife and son dead, who shrieked during his ensuing 911 call that his aforementioned hunting lodge was not a trailer: "It's a house!" On Sept 3rd, his law partners quietly confronted him for embezzling what seems to be millions of dollars. He resigned.
On September 4th, he was shot in the head.
Into The Dark Heart Of South
Through his lawyers, Murdaugh claimed that he blew a tire in his Mercedes on Salkehatchie Road near Varnville. When he exited his vehicle to change it, a pick-up drove by. It drove by again and asked if he was having car trouble. Then he heard a gunshot.
Good Samaritans found him bleeding on the roadside; Murdaugh called 911 from their van. He was life-flighted to a Savannah hospital and found to be suffering from "a skull fracture, minor brain bleeding in two places, and a wound that has an entry and exit point." Two days later, he was released and fled to rehab for what The Daily Beast called an oxycodone addiction.
The state of South Carolina suspended Murdaugh's law license.
And Murdaugh's attorney Jim Griffin insisted his wound "was not self-inflicted." No gun was found at the scene, though his tire was reported as "slashed."
But as Maya Angelou said, "There's a world of difference between truth and facts."
Shit Goes Downright Faulknerian
As Pat Conroy always said, "The truth doesn't always make a good story, does it?" But in this case, he was wrong, wrong, wrong. On September 14th, news broke: Murdaugh had been at the end of his rope. In a "massive depression" and withdrawal from opioid addiction, he hired Curtis Edward Smith, 61, of Walterboro, SC, to kill him. This, Alex Murdaugh mistakenly believed, would ensure that his surviving son, 25-year-old Richard "Buster" Murdaugh, would collect his 10 million dollar life insurance policy — he thought the policy had a suicide exclusion.
Smith botched the shooting spectacularly, not only spending at least seven rounds with the gun Murdaugh provided him, but also actually failing to kill Murdaugh. He says he "got rid of the gun" after the shooting. While Murdaugh served as Smith's lawyer in a personal-injury case a decade ago, a police source says that he was Murdaugh's "personal drug dealer."
Murdaugh made a full confession to law enforcement on Tuesday night. No word on what prompted that. Then he lawyered up, using the same prominent state senator, Dick Harpootlian, who defended Paul in that felony boating accident. (Seriously, say "felony boating accident" one more time).
Smith was charged with "assisted suicide, assault and battery of a high aggravated nature, pointing and presenting a firearm, insurance fraud, and conspiracy to commit insurance fraud," then dumped in Colleton County Detention Center. After that, shit gets complicated. He faces those charges in Hampton County, where the shooting took place. Colleton County charged him with "distribution of methamphetamine and possession of marijuana," according to The Island Packet, and set him up with a $5,000 for the meth and personal recognizance for the pot. Those charges aren't related to Murdaugh.
Flannery O'Connor couldn't make this dude up.
Harpootlian showed up on The Today Show Tuesday morning, because with HBO Max embedding reporters in Hampton County for a docuseries, he didn't have much of a choice. He says, "It was an attempt on his part to do something to protect his child." Moreover, this shooting was all about "people feeding [Murdaugh's] addiction to opioids."
"These individuals took advantage of his addiction and his ability to pay substantial funds for illegal drugs," said the family lawyers to NBC. "One of those individuals took advantage of his mental illness and agreed to take Alex's life, by shooting him in the head."
Considering the amount Murdaugh embezzled is believed to be in the millions, that's a shitload of oxycodone.
Meanwhile, Harpootlian claims that they are personally investigating "an individual or individuals" who they believe are responsible for Maggie and Paul's deaths, and "We think we'll know this week whether the one suspect we're looking at bears further scrutiny, and we'll make that information available to law enforcement." The motive, he says, is "personal."
Did You Forget The Maid?
Maybe you forgot about the maid in this moving game of gothic Southern Clue. Gloria Satterfield, 57, died in what was reportedly a "trip and fall" in September of 2018, according to court documents. Murdaugh's insurance paid out $500,000 for "personal liability in wrongful death" claims and $5,000 in medical bills. But Hampton County coroner Angela Topper ain't here for that. She saysSatterfield's cause of death is listed as "natural" and that her office never performed an autopsy, and that her death wasn't reported to the coroner's office at all. "In light of these inconsistencies," Topper said, "I feel that it is prudent to pursue an investigation into Gloria Satterfield's death."
Meanwhile, Satterfield's sons, Tony Satterfield and Brian Harriott, are in their twenties, and they've lawyered up themselves — with someone who wasn't Murdaugh's college roommate and Buster's godfather. They say Murdaugh's handpicked attorney told them to sue Murdaugh for damages, which is weird. But when they settled her estate, they never saw any of that $500,000 dollars — and they've filed a civil case against Murdaugh. "It was Alex's idea to take these boys to Cory Fleming," their attorney told The Daily Beast. "It was an unusual situation to bring a claim against Alex personally so that Alex could turn it over to his insurance."
Alex Murdaugh is beginning to show a personal affinity for insurance payouts in addition to his propensity for embezzlement. He's become the lost moral center of a Flannery O'Connor story.
Murdaugh is expected to turn himself in to law enforcement on Thursday.
This article was originally published on