The Murder Of Amish Teenager Linda Stoltzfoos — She Deserves Justice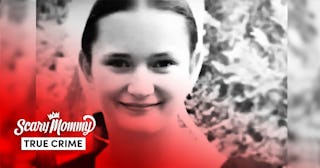 Scary Mommy and FOX43 News/Youtube
On June 21, 2020, Linda Stoltzfoos, an 18-year-old Amish woman in Lancaster, PA, was walking back to her house after church, reportedly to change clothes before attending a gathering with her youth group that afternoon. When she didn't return home later that evening, her father reported her missing.
Investigators quickly determined that Stoltzfoos never made it to her youth group gathering that afternoon, and over the next days, weeks, and months, the small town conducted the biggest search the community has ever witnessed. Between the Pennsylvania State Police and the Middle Creek Search and Rescue team, over 2,338 people assisted in the search, dedicating over 15,000 man-hours.
A 10-Month Search Comes To An End
On April 21 of this year, the search for Stoltzfoos finally came to an end. Sadly, the teenager's body was found buried on Amtrak property, wrapped in a tarp, in a shallow grave just under four feet deep. The burial site was in a difficult-to-access area a short distance from Dutchland Inc., the business where the main suspect in her kidnapping used to work.
Because of the age of the young woman and the style of dress, bonnet, and shoes found with the body, authorities immediately assumed the remains must be those of Stoltzfoos. They confirmed their suspicions using dental records.
Early On, Police Identify Justo Smoker As Their Primary Suspect
Even before her body was found, investigators had long believed the man responsible for Stoltzfoos' disappearance to be Justo Smoker, a 35-year-old local man. Smoker's car, a red Kia Rio, had been spotted in the vicinity of Stoltzfoos' last whereabouts, and witnesses had also told authorities they'd seen a young woman in the passenger seat of Smoker's car. Local police arrested then-34-year-old Smoker back in July of 2020, mere three weeks after Stoltzfoos' disappearance, charging him with felony kidnapping and misdemeanor false imprisonment. The judge denied him bail, citing the nature of the case.
Investigators have compiled a mountain of evidence against Smoker. Not only do they have witness sightings from the day of Stoltzfoos' disappearance, but they were able to locate video surveillance footage that shows Smoker's Kia Rio driving right near the spot Stoltzfoos was believed to have last been seen. The video depicts the vehicle driving out of frame of the camera, then a male approaching a female wearing white. Using video enhancement technology, authorizes were able to match the license plate on the car in the video to Smoker's as well as identify a distinctive sticker on the back.
Police also searched the nearby area and found articles of Stoltzfoos' clothing, a bra and stockings, each of which contained DNA from Smoker. Police officially charged Smoker with murder on December 21, 2020, by that time having concluded from the evidence they'd gathered that Stoltzfoos was no longer alive.
An Autopsy Reveals The Cause Of Linda Stoltzfoos' Death
Stoltzfoos' body was found on the 10-month anniversary of her disappearance. The Coroner's Office conducted an autopsy and reported the cause of death to be "asphyxia due to strangulation and suffocation, with a knife wound to the neck serving as a contributing factor," according to People. Investigators also believe Smoker had first buried Stoltzfoos' body at a different location, near where they had found her bra and stockings, but then several days later moved and reburied the body behind his place of employment.
Prosecutors have said they'll seek to convict Smoker for first- or second-degree murder. Either conviction would carry a sentence of life imprisonment without parole. There is also some speculation as to whether prosecutors will seek the death penalty for Smoker, which is only available as an option if he's convicted of first-degree murder. Smoker so far has issued a plea of not guilty to all charges against him.
Stoltzfoos' family has not spoken to the press, and nor has Smoker or his attorney. But Mervin Fisher, an uncle to Linda Stoltzfoos by marriage, did speak to a local news outlet about Stoltzfoos' disappearance and how the family is holding up. "There seems to be a weight off," he said. "It's almost a sigh of relief. It seems to be a weight lifted. This helps with closure."
We hope this family can gain a small measure of peace now that they at least have this young woman's remains returned to them.
This article was originally published on