10 Musicians Over 40 Who Rock Harder Than Anyone Half Their Age
by Jessica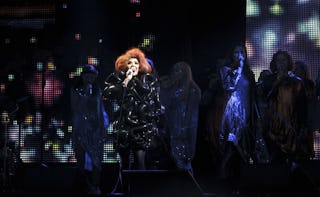 Beck
© Kevork Djansezian/Getty
As an unexpected Grammy winner for Album of the Year, Beck is still able to surprise us. Whether it's with melancholy folk tunes or funky rock songs, you never know what his next project will sound like. Not bad for a kid that critics wrote off as a slacker one-hit wonder over twenty years ago.
Sia
© Frederick M. Brown/Getty
The artful pop singer is approaching 40 this year and is at the top of her career, which makes Sia a rarity in the youth-obsessed music industry. Even if we rarely see her face, her powerful voice makes her presence plenty known.
D'Angelo
© Michael Buckner/Getty
The R&B singer emerged from a fourteen-year hiatus with the surprise release of "Black Messiah" last year, making for one of the most welcome comeback stories of 2014. This year promises to be even bigger for D'Angelo as his January SNL performance proves he's more soulful and relevant than ever.
Sleater-Kinney
© Jana Birchum/Getty
When Carrie Brownstein, Corin Tucker and Janet Weiss released their first album in 1995, they probably never thought they'd be playing to audiences full of people actually born in that year two decades later. But with their latest tour and album, the recently reunited Riot Grrrl trio is doing just that.
Missy Elliott
© Andrew H. Walker/Getty
The pioneering rapper got the cultural reintroduction she greatly deserved as she outshowed Katy Perry and her dancing sharks during this year's Super Bowl halftime show. She's also rumored to be working on new material with long-time producer Timbaland and Pharrell. The sooner it's released, the better.
Blur
© Pablo Porciuncula/AFP/Getty
The band is set to release their first album in twelve years this spring, which is good news for all of us waiting for a Brit-pop revival. All together now, woo-hoo!
The Replacements
© Frazer Harrison/Getty
Indie-rock icons The Replacements reunited last year and, luckily for fans, have never sounded better. They're headlining festivals and selling out venues larger than they've ever played before; they're having the moment we've known they deserved since their '80s college radio days.
Björk
© Malte Kristiansen/AFP/Getty
Released earlier this year, Vulnicura is a break-up album that only Björk could make. It's cerebral and haunting, but also surprisingly straightforward. And because of that, Björk's art and ambition continue to be compelling, accessible and refreshing.
Prince
Will he ever not be sexy? Enough said.
© Ethan Miller/Getty
This article was originally published on