Photo Of Muslim And Jewish Kids Protesting Side By Side At Airport Goes Viral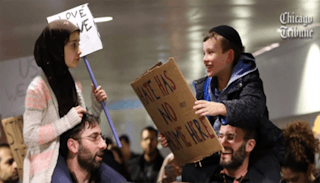 Image via Twitter/ Nuccio DiNuzzo
The photo is beautiful, but the story behind it is even better
President's Trump recent executive order suspending the U.S.'s entire refugee program and barring citizens from seven predominately Muslim countries from entering the country is upsetting to anyone who understands the meaning of the word empathy.
The ban has sparked protests around the country, with people of all ages and backgrounds coming together to show their disapproval of the ban. During a protest at O'Hare International Airport, a photographer captured a moment between two families that has touched so many, it's going viral.
The photo was taken by Chicago Tribune photographer Nuccio DiNuzzo. He took the photo on day three of the protests at the international terminal of the airport. DiNuzzo knew he had captured something truly special the moment he snapped the image. He posted it on Twitter with the simple caption, "Untitled."
In the image, Rabbi Jordan Bendat-Appell of Deerfield, Illinois is seen chatting with Fatih Yildirim, a Muslim dad who lives in Schaumburg, a suburb of Chicago. Both dads have their children, nine-year-old Adin and seven-year-old Meryem, on their shoulders. The two families just met that day at the protest.
"My son, Adin, wanted to move closer to the front of the crowd so he could see people better when they passed by," Rabbi Bendat-Appell told The Huffington Post. "He was very excited to be there! He asked to go on my shoulders and we found ourselves next to Fatih and his family."
He said that when the photo was taken, the adults weren't discussing anything political or heavy. They were actually discussing the best kosher steakhouses around. The families traded numbers and got together after the protest. The rabbi invited Yildirim and his family over for Shabbat dinner. "I'm making steak, he is bringing baklava," Rabbi Bendat-Appell said.
What made the moment so special is how it shows us that in spite of our differences, people can have a lot on common. "What was wonderful was that it was a very human interaction ― not a Jew and Muslim, but two human beings (who look enough alike to be brothers!), standing up for what is right," Rabbi Bendat-Appell said.
The image is by far the most popular image DiNuzzo's ever shared. "A lot of things that I post on Twitter, from sporting events and news events, [I] get a few re-tweets and a few likes," he told Time. "It's rare that it gets in the thousands. I had a Bruce Springsteen photo last year that he re-tweeted out to his fans and that was the most I ever got – over 2,000." The photo of Adin, Meryem and their dads has been retweeted over 8,000 times and liked over 14,000 times.
Rabbi Bendat-Appell is thrilled that the photo is getting such a positive reaction. "I hope that when people see this photo ― and I believe Fatih is with me on this ― that people see that we can come together, that we are all human beings and even children can understand that we have a simple choice to make as human beings: We can choose to be loving and kind even if we have reason to fear and mistrust," he said. "We are happy if this photograph can bring a bit more love and light into this world."
This article was originally published on