12 Must-Haves For Anyone Who Is Obsessed With Cupcakes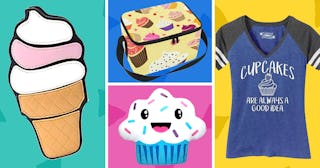 Amazon
May we bake them, may we stuff our faces with them, may we never feel one ounce of guilt for enjoying them. Cupcakes. They're magical AF. With one sweet bite they can transport to a land of sweet, sugary bliss. Whether you prefer a carefully crafted delicacy with perfectly piped icing or you'd rather snarf down a few made-from-the-box cupcakes with tub icing smeared sloppily on top, your love of cupcakes is legit and undeniable.
That's why you need to peruse this list of downright delectable products we've gathered especially for our fellow cupcake connoisseurs.
This adorable cupcake beanie performs double duty by keeping your head warm while also boldly displaying your obsession with all things cupcake.
I'm sorry, did you say this cupcake cooker makes full-size cupcakes in 10 minutes with no preheating?? Sign. Us. Up.
This adorable Alex and Ani cupcake bangle bracelet is available in gold and silver, and proceeds with a minimum of $25,000 will be donated to Race to Erase MS, dedicated to the treatment and ultimate cure of Multiple Sclerosis. Sweet.
It may not be wise to eat cupcakes for every single meal, but that's why these cupcake socks were invented–so you can have cupcakes with you literally every step you take.
5. Cupcakes are Always A Good Idea V-Neck Tee
On second thought, maybe we will have cupcakes for every meal. This Cupcake V-neck Tee is so cute with it's sporty feel and flattering cut. We want one in every color!
You can't call yourself a cupcake connoisseur if you don't have Betty Crocker's The Big Book of Cupcakes on your bookshelf.
7. Collapsible Cupcake and Cakepop Display Carrier
This sweet beauty displays up to 24 cupcakes in three tiers AND has 40 holes to hold cakepop sticks to keep secure for transport and serving. Breeze into a party with this thing and you'll forever be known as the Cupcake Queen.
These non-stick silicone muffin pans are made of high quality silicone and are, according to one Amazon review, "handy little rascals!" Also, they're pretty.
With this badass cake decorating kit, you will officially be the master cupcake decorator and basically a cake boss. Get. It.
Display your love for cupcakes with this too-cute-for-words cross-body cupcake bag. And it comes in two colors, so one for you and one for your equally cupcake-obsessed bestie.
Pack your lunch in this hella cute cupcake lunchbox as a message to all you meet that regular food is bullshit and you would rather be eating cupcakes.
With this perfectly puffy cupcake throw pillow, you can take your extreme cupcake obsession with you right into dreamland. And why not, because cupcakes really are the stuff dreams are made of.
We may earn fees from purchases made via links on this page and affiliated sites. All opinions are our own.
This article was originally published on