17 Must-Haves For An Epic Family Game Night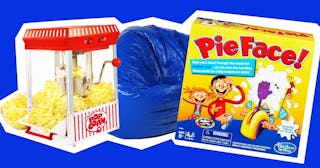 Scary Mommy and Walmart
We all love a good family game night, and it's not just about the gaming, either. We need all the comfy accessories and snacks to compliment the playing. Here's a list of Scary Mommy must-haves to make your next family game night epic.
RELATED: 20+ Popular Board Games To Spice Up Regular Family Game Nights
Get eight of the most popular dice games in one box. This set includes poker, letter games, and many others to keep your family entertained for hours.
If your kid is hooked on Fortnite (like the rest of the world), you just might get them away from the screen with this version of the beloved classic Monopoly.
Bean bags are the best way to enjoy family game night. Throw a couple on the floor and everyone is ready to play.
Complete a series of heists with your fellow villains and face off against your ultimate archenemy, Spider-Man!
Sure, Twister is fun, but have you ever played it blindfolded? Your whole family will be moving (and laughing) with this game.
This one's inspired by Cards Against Humanity, but is 100% family-friendly — and you'll definitely approve of how into it your kids will be.
These super soft, winter-themed pajamas come in sizes for the whole family. Everyone needs a pair to make family game night more festive.
Snacks are a must while playing games, and this popcorn machine kicks the fun up a notch. Your kids are sure to fight over who gets to make the next batch.
A family favorite for years and years. Shut the Box can even be played solo after the kiddos are in bed.
The whole fam will be rolling with laughter when you take turns saying silly phrases with random accents and voices.
A game of strategic wordplay, where the higher you stack your tiles, the higher you stack your score. (And it can even be a one-player game if the rest of your family is being party poopers!)
This game is a family favorite–just be sure to stock up on the whipped cream because you and your crew aren't going to want to stop playing.
Game night doesn't have to be limited to board games or cards. This table top bowling game will definitely get your competitive streak a bump.
Strive to become the next Black Panther in this fast-paced dice rolling game with two modes of play: shorter, for when you've only got a few minutes, and longer, for those epic family game nights.
Trivial Pursuit is a classic game that needs to be added to everyone's collection. We love this family edition so that everyone can play together.
Game night doesn't need to be limited to board games; you can get your family moving with this adjustable basketball hoop. And it travels well so you can take it with you while visiting friends and family.
Laser tag is always a good time. This set comes with two lasers, so make sure to get enough for the whole family because they are all going to want to play.
I don't know about you, but I'm ready to hunker in for the night to eat chocolate, watch my kids make popcorn and have some laughs over a fantastic family game night.
This post contains affiliate links, which means we receive a small portion of the sale if you make a purchase using these links.
This article was originally published on