Travel Season Is Upon Us, So Stock Up Now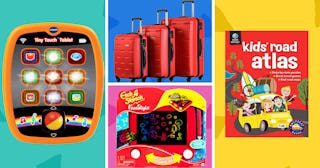 Walmart
It's that time of year when we are ready to pack up the car with the kiddos and hit the road to splash around in waterparks, go to Grandma's house, or explore a new city.
We know it's easier said than done, so we've compiled a list to make your travels go a little smoother this year.
Pack for the whole family with this 3-piece luggage set. We love it because you can throw it in your trunk and not worry about the contents getting squished or broken.
RELATED: 26 Best Kids Luggage Pieces For Your Next Family Vacation (Whenever That May Be)
You won't hear a peep from the back seat so long as your kids have a LeapPad on them. It will keep them happy, they will be learning, and your drive will be more peaceful which is the recipe for the perfect road trip.
We loved playing with an Etch-A-Sketch in the car when we were kids, and so do our littles. Now, the classic toy comes with a magic pen.
This trunk organizer will save your car from becoming a sand trap this summer. It has tons of room an compartments to keep all your Spring/Summer necessities from rolling all over the car.
This tablet is perfect for toddlers on long trips. Its bright colors won't only keep them happy and make them feel like they have a phone their own, they will also learn shapes and letters.
Everyone needs to take their gear whether you are going on a long trip, or will just be jetting from place to place this Summer. A backseat organizer loaded with all the necessities in easy reach will help take the edge off.
Don't go anywhere this summer without sunscreen. We love this pack that comes with three earth-friendly sunscreen bottles in different sizes.
When you aren't behind the wheel, this pillow/blanket/eye mask set will help you catch some ZZZs until it's your turn to drive a leg of the trip.
It doesn't matter if you are going to be gone for the day or a week, a backpack is always a must so you can have kids snacks, water bottles, wipes, and everything else you need to keep your clan happy in easy reach.
You can't go wrong during a long trip if you let you child rotate between their device and an activity book like this that's chalk full of games and puzzles.
An oversized tote is always a good idea to have on hand in your car if you want to stop for an unplanned picnic or walk in the car. It's easy to stop and pick up supplies and food, especially if your keep a large bag like this one, and blanket in your trunk.
Traveling as a family can produce great memories as well as great stress, but with a few games, the right luggage, and trying to stay organized your spring and summer trips can be more enjoyable than ever.
We may earn fees from purchases made via links on this page and affiliated sites. All opinions are our own.
This article was originally published on