After Taking My Showers Back, I'm Obsessed With This Customized Shampoo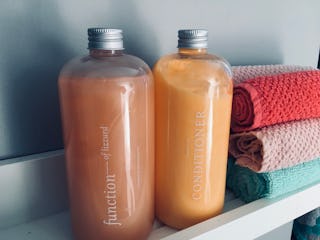 When I became a mom, I welcomed my child with open arms. And, apparently, open bathroom doors. Pre-kid, showers could be quick or luxuriously long. Baths were a thing too — my product lines were lush indulgences that filled the corners of the tub with shea butter and foamy, paraben-free suds. Up until recently, every time I tried to take a shower, I was toweling off in front of the human I created with the door open.
Growing up, it wasn't this way with my mom. She took nightly baths and I knew to never bother her. If I did? Certain death. Did she ever explicitly warn me against knocking on the door, barging in, or even breathing near the doorknob? I don't remember. What I do remember is the kid-free forcefield she put up whenever the water started running.
Make My Shower Private Again
With all of this in mind, I decided it was time to take my showers back and make them private again. Corner toy caddy of yuck meet my bath bombs, wet moisturizers, and — why not — my new personalized shampoo set. If the door was going to be closed and locked, I decided I wanted to level up my shampoo and conditioner with something I'd read about but had previously thought of as too bougie.
RELATED: How To Make Ahhhh-Mazing Bath Bombs For Gifts… Or Your Own Spa Days!
Babes, kid-free me is so proud I got here.
My Hair Goals, My Self
As much as I still wear red lipstick, wash my face, and stay hydrated; it's a rarity for me to really focus on myself. So when I decided to take the customized shampoo leap, the first place Function of Beauty wanted me to start was with a hair quiz. Building my "hair profile" was more thought than I've ever put into my hair. Immediately I was in love with all this attention.
I often walk down the hair care aisle wanting to feel seen by a formula but it never happens. My scalp is oily yet dry, my hair is a tangled mess in the morning; it has oodles of heat damage from straightening, and it's color-treated. As the world's first fully customizable haircare line, Function of Beauty not only asks you to create a hair profile — think: texture, thickness, and scalp — but also what are your goals? Are you looking for volume, deep conditioning, color treatment?
Function of Beauty offers 18 hair goals, and you get to pick five. I went with color protection (dyed brunette), thermal protection (weekly straightening), anti-frizz (fly-aways like whoa), shine (why not?!), and oil control (don't judge). All of this seems too good to be true, right?
Don't Let The Door Hit You
With my quiz complete, I waited for my peach-scented and sunshine-colored set to arrive with the kind of patience normally reserved for toddlers who've been told they're going to the playground. Which is to say, obviously, I had no patience. I'd look at my gargantuan shampoo and conditioner from my wholesale club and talk down to them, like, "Posers, you're about to get replaced." Function of Beauty's "skip the line" expedited shipping did dull my impatience to an "Alright, I won't set up a lawn chair at the mailbox" manageable level.
Once my box arrived, I couldn't wait to hit the kid-free forcefield button (more commonly known as a door lock) and start showering. In addition to my personalized bottles of shampoo and conditioner, each box contains two pumps, a print-out of your hair profile, and a recommended hair regimen to help make sure your formula is effective (think: daily shampooing vs. less often).
Ground Control To Major Hair
After a few weeks, my hair feels silky in the shower, and I can go to sleep with it wet and wake up and go. Plus, the delicious peachy smell trails behind me like I fully believed would happen one day as the hair goddess I knew was buried deep inside. This is major hair — frizz-free shine with a moisturized scalp to boot. Hairelujah! I've finally been seen.
With this "Get lost, I'm in the bathroom" commitment, I've stared into the eyeballs of another human while twirling my towel exactly zero times. I am absolutely loving everything about staking my claim to a locked door. And this hair? Time for some fresh photos and bomb lighting.
Function of Beauty is hair care personalized. With over 27,000 five-star reviews, Function of Beauty is the world's first fully customizable haircare brand. Start your hair quiz now and get 10% off your first order.
This article was originally published on