by Carly Gelsinger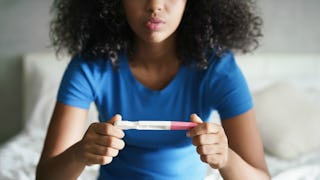 diego_cervo / Getty
When I kicked my husband out of the house at midnight during an episode of what I can only describe as a hormonally induced maelstrom, I should have sent him to the store for a pregnancy test. But even in the midst of my colossal mood swings, fatigue, and bouts of nausea, pregnancy was the furthest thing from my mind. As it should have been: I had an IUD.
RELATED: Here's When You're Most Likely — And Least Likely — To Get Pregnant
The Mirena was lovingly placed by my midwife about six months after I gave birth to my second child. I had never had an IUD before and it felt like an adventure in an uncharted territory of freedom. No more daily pill. No more condoms. No more meticulously following my fertility and abstaining from sex certain days of the month. No more anxiety over my period arriving a day or two late.
RELATED: What Is Sex With An IUD Like? Is Rough Sex OK? All Your Pressing Questions, Answered
Months went by. We packed up the baby swing and moved on from the infant stage. We enrolled our older daughter in kindergarten. We talked about having another baby someday. I was open to the idea and, at times, my arms yearned for a newborn, but my husband staunchly held to the stance that he felt complete with our two girls. "If it's good enough for President Obama, it's good enough for me," he'd say when I'd press him.
And he had a point. I was coming into the most important year of my career yet. My freelance editing business had picked up and I was gearing up for the publication of my first book. We decided to curtail the talk of adding to our family until after book launch. This was not the time for another baby. Our careers were good. Our kids were good. Life was good.
Not to mention, without the risk of pregnancy, sex had become spontaneous and fun, and as a result, our marriage had grown stronger.
And then, on an uneventful Friday night I had the emotional meltdown of a lifetime. We put the kids to bed, watched an episode of Modern Family, and then my husband said something that bizarrely enraged me. (I can't tell you what he said because I honestly don't remember.) I threw my iPhone across the room. Shocked by my anger, I picked up the shattered phone and threw it three more times, releasing this incredible surge of emotion I didn't know was weld up within me. I kicked him out of the house (in our nine years of marriage I have never done that before) and told him not to come back. As soon as he left, I realized I had no way to contact him and I cried into my pillow hoping he'd come home soon.
He did, thankfully, and we made up that night, though he and I were both shell-shocked by my outburst. I wondered if this was the start of a mental breakdown. Was I going nuts? Did I need to adjust my medication? Was I having an early midlife crisis?
After that, I felt like I couldn't wake up for days. I went about my life as if I were floating. I was exhausted for no apparent reason. My eyes just wanted to be shut no matter how much sleep I got the night before.
Then I had a giving birth dream. I woke up that next morning and took the kids to Walgreens to buy a pregnancy test. It was just to check—of course, I couldn't actually be pregnant. I wanted to rule it out.
Since getting the IUD, I had stopped keeping track of my periods. I couldn't remember when my last one was, but it felt like a while? I thought I was being paranoid. I didn't even tell my husband what I was going to do. My kids ran around the store with bouncy balls, begging me to buy them everything they touched. The clerk looked at me with pity as I gathered my wild children and my generic brand pregnancy test out the door. I'm not actually pregnant, I wanted to explain. I can't be; I have an IUD.
When the dark pink line in the big window formed before the test line filled in, I thought I was hallucinating. I looked at the box, and back to the test, and back to the box.
This was unreal. What about the IUD? I called my husband, my mom, a friend, and my OB in a few delirious minutes. The doctor wanted to see me right away. Apparently IUD pregnancies carry substantial risk for miscarriage.
Two hours later, I recognized the floaty little lopsided bean on the ultrasound before the doctor confirmed it. I'm no novice; I've done this twice before. There was a fetus in my uterus. The IUD however was nowhere to be found.
"What do you mean, it's not in there?" I asked in disbelief. Disbelief was my new normal.
"It may have disintegrated. You may have passed it," the doctor said, a little too cavalier for my taste.
"Passed it?"
"Yep, it's probably in a sewer somewhere!" he said, pleased with his joke. The thought made my nose curl and my stomach flip. I tried not to gag.
Yes, I was definitely pregnant.
How did I pass an IUD without realizing it? There was that extra long period I had a few months back. I couldn't remember exactly when or how long it was. Again, keeping track of my bodily patterns would have been helpful in hindsight. But why would I, when I had a semi-permanent fertility manager implanted in my uterus?
I went home, took a prenatal vitamin and put my feet up. My life had already changed in a major way.
Later, I would be thrilled, but it would take a while for the shock to subside. My friends with IUDs scrambled to their doctors to have them checked. They had their husbands schedule vasectomies.
"Trust nothing," I warned them.
Hormonal IUDs have a 99.7 percent effective rate, but there is always that chance. That small percentage shouldn't be enough to cause alarm, but know that it does happen. It happened to me. If you have classic early pregnancy symptoms, haul yourself to the drugstore and get a test. It may put your mind at ease like I thought mine would. Or you may learn something very surprising about what is happening inside your body.
This article was originally published on