This Is What It's Like To Test Positive For The BRCA1 Gene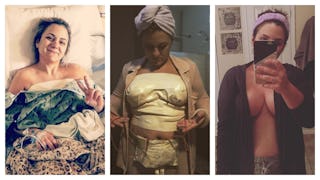 brcamama / Instagram
How is it that what should be the hardest decision in one's life ends up being the easiest? To answer that, you have to know my story.
I can still hear her voice, feel her kisses, smell her perfume, and see her eyes looking into mine. I say I did this for my kids, husband, and family, but really, I did it for her.
Not only was I the first grandchild, but the first girl in a long line of boys. We did it all together. Super model walks, weekends on the boat, baths with all the smells, and "You Are My Sunshine" sang through the house. How could something so perfect not continue?
My mom remembers Nana going to her doctor and telling him, "Something is wrong, please look closer." No one listened to her. She begged for a hysterectomy. No one listened. I was 5 when my Nana was diagnosed with ovarian cancer. She knew something was wrong but no one listened.
RELATED: Looking To Get Down? Here's What You Need to Know About Sex After A Hysterectomy
She fought for years. I will never forget the day my parents told me we had reached the end. I begged to go home with them and be with her. Seeing her there, with us, but so…. lifeless. Heartbreaking. Everyone was at hospice; it was clear that she was adored. I said goodbye the best I could. She passed away when I was 9, I was her everything and she was mine.
Losing her was hard, and all our lives were changed. When life was hard, I would talk to her. When I made the softball team, I told her. I always had talks with her. I always knew she was with me.
Years later, my mom gave me a box. It contained everything my Nana had put together for me. Drawings from her boys when they were little, her mother's drivers license, birthday cards, family pictures, and letters she has written me.
She wrote to me from the day I was born. You see, she never wanted to leave me. She never wanted to leave my baby cousins. She never wanted to leave her boys. She wanted to live, she wanted the memory of her to continue.
Her letters told of memories she had of her boys, me and our adventures together, when I moved to Arizona, me being a pudgy little girl, my fears I told her about, her last days of feeling well and bad, and most importantly, her wishes for me as I grew up.
I was young and I didn't know what to do with these things. I only knew that they were special and would be needed later. I always knew that I would need them later.
Many years passed. My uncle and cousin are BRCA1 positive.
My Aunt called and told me to get tested.
I was busy having children, creating a life, and I didn't want to know yet. Deep down though, I knew. I think we all knew.
I talked to my Nana then too. I told her I would do it, but not yet. I wasn't ready because I knew what I would have to do.
I would have to do everything in my power to make sure that I lived. That I was listened too. That we were all listened to.
I was 31, and had just had my daughter a little over a year before. My last baby. I was going in for my routine well-woman's visit and the doctor told me, I should get tested.
"Absolutely, give me the paperwork, I will go take it when I have the time."
"Nope, we can do it now, just draw some blood, get dressed and meet me around the corner."
She gave me a minute and let me get dressed. Sitting there my heart raced. I looked up said out loud… "OK, Nana, I hear you!"
One month later, I found out that I was BRCA1 positive.
My family knew what I was going to do. My husband was behind me. He knew there was no other choice in my mind.
I would be having a preventative double mastectomy.
But wait.
I have two babies, and my daughter is just barely one. How will we survive 8 weeks of recovery? Who will rock her at night? Who will dance with her when she is being crabby? Who will my son cuddle with at night when he comes into our bed? How will we make this work?
Am I ridiculous? No. I'm not ridiculous. I want to live without fear. If she would have had this choice, she would have been able to live. She would be here.
I found my team of doctors within one month. My surgery was scheduled for January.
I spent the months leading up to surgery making sure I was healthy and strong. Never second guessing my choice.
One month before surgery, reality started to sink in. It was hard to just do life.
I was scared of the unknown. What would I look like? How would my kids handle this? Would my husband love the new me? Would I love the new me? I talked to my Nana a lot that last month. Everywhere I went, she assured me this was where I was supposed to be. Making this choice.
The day came quickly, I woke up the morning of my surgery, showered, and braided my hair. I kissed my babies in their beds. My husband and I drove quietly to the hospital. My parents were meeting us there.
Registration was quick. Too quick. I was checked in.
My mom called. I could hear the fear in her voice. I started to cry. I had held that cry in for months. I didn't have the need, until right then and it wasn't because of what she was saying on the other end. She told me she wasn't going to come before surgery, she just couldn't. She was too scared. She didn't want to make it worse for me. But, if I needed her there, she would be there. We talked and cried. I was fine with her decision. The truth was that I was afraid if she came I wouldn't be able to do it. I wouldn't be able to be rolled away from her.
My name was called and alone I went back alone to prep. I held on to my Nana's face as I braved through. Being back in pre-op by myself… I'd never felt so lonely.
My husband came back as soon as they let him. He was so strong for me.
It reminded me of when we had our son. I had to have a c-section and my husband stood there so still and strong, never making a concerned face. Just strength. Afterwards, when we talked about what it was like, he said, "YOUR INSIDES WERE ALL OVER THE TABLE!" I still wonder what he was thinking this day.
My dad and step mom got to the hospital, and they let them come sit with me. I could see the fear in my dad's eyes. His baby girl, his only child, having surgery. He was terrified. He acted so strong. I acted strong for him. I didn't want him to see me cry.
It was time. I kissed and hugged everyone. I called my mom and told her I would see her in a few hours.
I will never forget that stroll to the surgical room. I cried all the way down the white hall, my anesthesiologist talking to me, telling me how brave I am. Me, still holding on to my Nana's face, hearing her voice… "You are strong. You can do this."
As I entered the room, it was loud and then it went black.
I woke up to a whole new me.
This article was originally published on