My Relationship With My Mother (Now That I'm a Mother)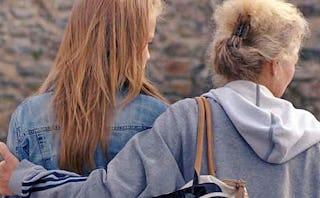 25 years between us and yet…
I am my mother's child.
Of this point I am completely and utterly certain.
There are many layers to our relationship. Like any mother and daughter, we have a tiered affiliation born of the memories of our shared past, the chaotic present we live in and the hazy, clouded future. We are the tip of the iceberg and all the stuff hidden underneath.
Do you know anything about the nature of perfume? How there are top, middle and bottom notes (those pesky layers again) that make up the composition of a fragrance? Do you know that a scent will react with your own skin and chemistry, smelling one way on one person and completely different on another's wrist? The scents sprayed on our sensitive pulse points tell our stories, leaving the elements of each of us in their wake; ones that linger far longer than our physical selves.
Beneath all the layers and levels of emotions, similarity and strata my mother and I share more than tightly wound strands of DNA.
Fragrance becomes a powerful memory maker when it becomes someone's signature.
And, well, my mom and I, we have a heady essence all our own.
***
My mom calls every day.
Sometimes we are on the phone for a few moments, just a simple check-in or information swap. Other times we act like long-distance lovers, asking one more question and then another until we are sharing one more anecdote in our refusal to be the first to say goodbye.
Her voice is as familiar as my own. We have often been mistaken for one another.
Sometimes when her number lights up my screen I just want to talk to her about the day-to-day stuff, to share the things that don't really have an answer; I yearn to be just a mom and her girl kibitzing. Other times I know I am using her as a safe place to vent my frustrations and disappointments.
Like any mother and daughter we have a tiered affiliation born of the memories of our shared past, the chaotic present we live in and the hazy, clouded future.
But it happens sometimes that when I start in on my own news and stories, she starts in with her advice, her endless observations on life that are mixed with her personal history and narrative. Tangled up in all that advice is the ever-present but never, ever uttered, please don't make the same mistakes I have.
When that happens, it is inevitable that I will deliberately hang up the phone and take a slow walk into the hallway of my workplace, walking past cubicles, cutting around the conference room into the atrium in a vain attempt at avoiding the ladies room, because it is imperative that I circumvent all the questions and comments of well-meaning friends.
"How are those gorgeous boys?"
"Any funny stories of the twins today?"
And after I've circled around and my heart is not beating itself out of my chest, I often find myself sitting in the atrium, allowing my mind to unravel with thoughts like, Perhaps you could just ask my mom. She seems better equipped to regale you with the stories and anecdotes of their days. It is a mean thought; it is a childish reaction, but still I allow myself to wallow in it from time to time.
One day, many years ago, when I was still knee-deep in diapers and daycare, hungry for empathy instead of advice, I sat there, stewing in my own bitter soup, when a woman hurried past me, tapping at her phone. And as she passed I took a deep breath to collect myself and inhaled a sultry mix of sandalwood and amber. At once it reached inside my brain and pulled memories from it as if it were picking apples off a tree. It snuck into my nose and lingered there, clinging to me.
I sat down on the bench and just took it in. There, mixed with the undertones of rose and musk mingling with the top notes, was the essence of my mom. It was in every breath I took.
That particular bottle is like an open door to my past, acting like a song that brings your life back to you with every stanza. It was her narrator, announcing her arrival, casting a wide net of fragrance wherever she went.
For as long as I can remember I've associated that perfume with my mom. More than the blue eyes and shapely legs we share, more than the helpful chirps of you need a little lipstick and some jewelry wouldn't hurt.
I suddenly remembered a day lying on a table, warm blue goop on my belly, basking in the knowledge that we would soon know the gender of the babies we had all fought so hard for. I was stalling, desperate for her to be part of the reveal. The tech stuck her head out the door and looked toward the waiting room. "She's not here…" she said even as my nose filled with a familiar bouquet. "Oh yes she is," I answered, "I can smell her. Please go tell her we're ready."
I don't think my mother knows, even now, how as a child I used to put my nose to her pillowcase, when she'd be running out of the house, going to start her busy day and shouting back a request that I make her bed. How I would fill my nose and carry her around with me all day.
I wonder if she can imagine how burying my face in her chest as I nursed my numerous broken hearts helped to heal them faster. It was the balm of her hugs mixing with her fragrance that offered me something better than medicine. I've never told her how I will forgo giving my twins a bath some nights when she has visited because I know she is lingering in the strands of their hair. I pull them a little closer or allow them access to my bed, then sniff their heads, looking for signs of her, aching for one more way to have her near.
Someday I will catch a whiff of that fragrance and the memories will be all I have of her.
I think about that day on the bench a lot, remind myself that the moments of having her essence surround me are limited. Someday I will catch a whiff of that fragrance and the memories will be all I have of her. There will be no more two-sided phone calls or testy, defensive attempts to prove who's right. Her top note will no longer exist to react with my bottom one.
Now as I wade into the waters of motherhood myself, I see this so clearly, feel it so deeply. Nothing is forever.
Someday the bottle will be empty.
Her very existence is a gift; a mother who loves me, hurts for me, and understands me in a way that no one else ever will. I may often contend that she doesn't know everything—but in a stunning turn of events, I realize that I don't either.
My mother has always pushed and forced herself into my life, right from the moment our blue eyes met. She is my biggest cheerleader, my kindest critic, the top note that blends expertly with the bottom, forming the sweet spot: the tender, comfortable middle that creates our signature scent.
****
I reach for the phone these days. I am drawn to the blinking green light that reveals her incoming call. And when I pick up the handset I wait for her voice to commingle with mine just like the scents in that favored bottle of perfume.
She on one end with me on the other; tenuously reaching for one another, we become a special, fragrant amalgamation.
I am my mother's daughter after all.
Of that I am forever completely certain.
This article was originally published on