This Young Girl's Invention Could Save The Lives Of Allergy Sufferers Everywhere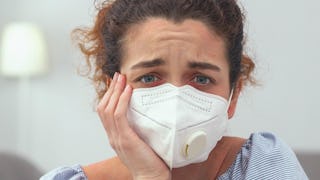 Zinkevych via Getty
Is there anything more terrifying than thinking your child is having an allergic reaction to something they've eaten?
Children with allergies are up against an assortment of obstacles, particularly when they are severe. And unfortunately, up to a third of children with allergies have experienced bullying or been ridiculed for the diagnosis.
If you've ever witnessed the urgency of an allergic reaction, you know there is nothing humorous about the risk that accompanies being exposed to allergens. It's often a matter of life or death — and we have to do more as a society to reduce the chances that individuals with allergies live in fear of having an allergic reaction. This is especially important considering the outrageous $630 price tag for a two pack of EpiPens. Thankfully cheaper generic alternatives are in progress, but the expense can be unmanageable for the most vulnerable of allergy sufferers.
However, life with severe allergies come with more than social and financial responsibilities. While the majority of us have the freedom to trustingly eat food at our loved one's houses, try samples offered at grocery stores, and pull off of the road and eat almost anything that we see available, their experience is quite different.
Imagine if you had to diligently wonder what conditions and what ingredients were used in every meal you have out of fear that one bite could be enough to send you directly to the hospital. It's a scary life, and the impact of not being taken seriously weighs heavy on the mind of allergy sufferers. Cross-contamination is a major (and valid) concern for all people with food allergies.
One young allergy sufferer, in particular, named Katie Parkins founded MyTealTicket — a teal-colored restaurant order form that breaks down selection options on a wide variety of common food allergens. And one can't help but wonder how many lives will be made easier by her invention.
Parkins' passion for making an impact in the lives of allergy sufferers began once she ate a cashew at 2 years old and her parents discovered that she had a severe tree and nut allergy.
"I was extremely cautious with my food allergies and would NEVER eat a food that I wasn't sure was safe," she wrote on her website.
Naturally, eating outside of the home became a source of anxiety for her. You lose a lot of control, when you have to trust other people with your wellbeing. If her food was prepared near her allergen, the situation could quickly become dire quickly. It's that serious.
Through the years, Parkins also discovered that she had an allergy to fish and shellfish after tasting her first shrimp cocktail while she and her family were celebrating Father's Day at her uncle's house.
At age 12, Parkins began ordering her own food and addition to her order, she would also list her allergies.
Two years later, the young innovator has used her original "allergy note" strategy to make things easier, and less scary, for everyone ordering foods while living with allergies.
Parkins' website described the potentially life-saving resource as follows:
"MyTealTicket is a restaurant order form that helps people with food allergies have a safe and enjoyable dining experience. The teal color stands out from all of the other restaurant order tickets, which makes it easier for the chef as he or she prepares your meal."
Parkin's idea has made it clear that the teal ticket has widespread utility. Not only is it useful for parents who wish to speak up for their children with allergies, it is also a great resource for individuals with allergies themselves. Similarly, the impact of restaurant owners and employees having access to a resource that clearly lists out food needs might lead to heightened awareness and sensitivity in the dining industry.
Currently, MyTealTicket is available in both English and Spanish and who knows how many languages it will be adapted to in the future.
As if the young founder's idea to start the blue ticket (and potentially save lives) wasn't inspiring enough, they also report that a portion of the proceeds go to the Food Allergy Research and Education (FARE) and directly contribute to an increase in research and advocacy for individuals with allergies.
With over 5.9 million children living with food allergies and 40% of those experiencing severe and life-threatening reactions, allergies are something we need to take more seriously. In the United States, there is someone headed to the emergency room for a food-related allergy roughly every 3 minutes. Yet surprisingly, many individuals forget or are unaware that allergies and asthma are considered disabilities that are protected under the American with Disabilities Act.
It's up to us as a community — schools, activity centers, and restaurants included — to calm the fears of life threatening encounters and reduce the chances of someone go into anaphylactic shock by being aware and pro-active. We need to take the concerns of people with food allergies seriously. No judgment, no shame.
My Teal Ticket restaurant order forms are available for purchase for $7.99 per packet of 20. (Don't forget some proceeds go to charity as well.) Whether you are a parent, allergy sufferer, or a restaurant owner who wants to make the dining experience at their restaurant more equitable, My Teal Ticket is a must have.
Who knew a special shade of blue could play a role in saving a life? Let's support this mission.
This article was originally published on