Mom's Heartbreaking Post About What Bullying's Done To Her Child Will Wreck You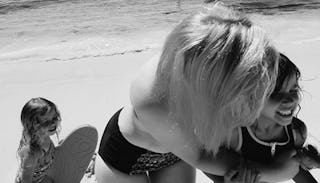 Image via Instagram/My Tribe of Six
Mom shares what bullying can feel like for parents and children, alike
At some point or another, most kids will be subjected to bullying in school. Though it's common, it doesn't make it any less heartbreaking when it happens to your child. It can make kids withdrawn, depressed, and worse. And parents can oftentimes feel helpless when it happens.
Stevie Niki, an Australian mom of four who writes about her family's adventures at My Tribe of Six, posted a compelling message on Instagram about what bullying can feel like for kids and parents and reminds parents of the importance of teaching our kids to be inclusive in choosing their friends.
https://www.instagram.com/p/BekWHgVlZTu/?taken-by=mytribeofsix
"I want to pretend like today was a good day, i want to say something positive and inspiring.. but i cant, not today," she writes. "I sat with my daughter after school and we both cried. My heart aches for all her pain and sadness."
Niki says her daughter is a loud, happy, silly kid. She's sometimes defiant, like all kids can be. "A child with a mind that wanders, a spirit that roams free and a heart that has a wild spark," she continues.
The mom of four says they have recently moved and as a result, her daughter had to go to a new school where she's been bullied. She's been more reserved, sadder, and challenging as she works through the hurt and pain it's caused.
https://www.instagram.com/p/Bd2Cu8MFa6v/?taken-by=mytribeofsix
"I want my happy girl back, the one who lights up the room and radiates vibes i wish i could create. My nice girl who loves her mama and her siblings, my kind girl," Niki writes. "Today she broke down because of the relentless bullying she experienced the last 6 months after we moved and changed schools. Questioned me as to why she doesnt have friends and that shes not good enough."
Unlike bullies of our generation, there's no escaping for kids today. They're bullied online and at school. It's widespread and it's up to parents to do what we can to teach our kids to be kind to everyone, whether you're friends with them or not. It takes nothing to be nice to another person, to have compassion and stick up for others when they need it. Someday they may need it themselves.
Niki tells Scary Mommy teaching our kids about kindness starts early. "Children are not born knowing how to discriminate, so the focus should be on maintaining their innocence. We should question ourselves, why are our children behaving this way and where did they learn it. If we are practicing kindness and inclusion, our children should be too."
"Talk to your kids, teach them kindness and inclusiveness," Niki finishes. "Because no mum and no child should have to sit through this and feel what we feel."
This article was originally published on