Stores Drop MyPillow After CEO Pushes Baseless Election Conspiracies
by Christina Marfice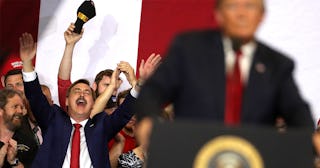 Justin Sullivan/Getty
MyPillow is being dropped by stores after its CEO has continued to push false allegations that the election was stolen from Donald Trump
Joe Biden will be inaugurated as the next President of the United States tomorrow, and honestly, it can't come soon enough. Trump supporters (including far too many GOP politicians) are still pushing baseless and false allegations that the election was stolen and Trump is the true winner, even after his supporters stormed the U.S. Capitol Building in a deadly mob last week. Finally, though, businesses are starting to get on board with the fact that Trump is dangerous, including the many who have decided to stop carrying MyPillow products after the company's CEO has kept pushing the false voter fraud narrative.
Mike Lindell, the CEO of MyPillow, confirmed to news outlets that a number of stores have dropped his products since the election.
"They're trying to cancel me out," Lindell told the Right Side Broadcasting Network's Brian Glenn in an interview on Monday. "I just got off the phone with Bed Bath & Beyond. They're dropping MyPillow. Just got off the phone not five minutes ago. Kohl's, all these different places. These guys don't understand… they're scared, like a Bed Bath & Beyond, they're scared. They were good partners. In fact, I told them, 'You guys come back anytime you want.'"
According to Lindell, the stores that have dropped MyPillow so far include Bed Bath & Beyond, Kohl's, H-E-B and Wayfair.
Many of the companies dropped MyPillow products after a campaign group called Sleeping Giants tweeted at them, including a video clip of Lindell that was reportedly filmed after the Jan. 6 riots at the Capitol.
"This is the only time we have in history to beat these guys, to suppress the evil, and beat the evil," Lindell says in the clip. "This is a fight for everything we've grown up with, everything we live for, everything this country stands for. The whole world is watching, and 100 percent, Donald Trump is going to be your president for the next four years."
Lindell previously came under fire after photos were taken of him heading into the White House for a meeting with Trump. Photographers caught a pretty clear shot of the notes he carried, which called for claiming China and Iran had interfered with the election, and invoking "martial law if necessary."
Luckily for Americans who believe the truth, that the election was free, fair, and secure, there are a lot of other choices out there for pillows.