Rihanna's Inspired NAACP Acceptance Speech Emphasized The Importance Of Allyship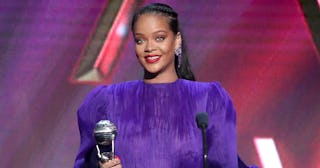 Rich Fury/Getty Images
At the NAACP Image Awards, Rihanna called on people from all races, sexes, and backgrounds to 'pull up'
There were many deserving winners during the NAACP Image Awards this weekend, but it was singer Rihanna's moving words about uniting and allyship that received a standing ovation.
Rihanna received the President's Award for her career in music and fashion and her philanthropy, including her Clara Lionel Foundation, which has raised millions of dollars for disaster relief, global education, and awareness for issues affecting communities all over the world, and stressed that she couldn't do it alone.
"We can't do it divided. I can't emphasize that enough," she said. "We can't let the desensitivity seep in — the 'if it's your problem, it's not mine.' 'It's a woman's problem.' 'It's a black people problem.' 'It's a poor people problem.' How many of us in this room have colleagues and partners and friends from other races, sexes, religions? Show of hands? Well then, they want to break bread with you, right? They like you? Well then, this is their problem, too."
Rihanna also talked about the importance of showing up — really showing up — if a cause that matters to us. "So when we're marching and protesting and posting about the Michael Brown Jr.'s and the Atatiana Jeffersons of the world," she said, "tell your friends to pull up."
It was also a night to honor the younger generation. Blue Ivy, 8-year-old daughter of Beyoncé and Jay-Z, also won the outstanding duo/group award for her contributions to the song "Brown Skin Girl." Her famous mom didn't do too bad, either, taking home six awards that night.
https://www.instagram.com/p/B84gEgfA1sd/?utm_source=ig_embed
Fifteen-year-old Black-ish star Marsai Martin earned four wins: Outstanding Supporting Actress in a Motion Picture and Outstanding Breakthrough Performance in a Motion Picture for her role in the 2019 film Little, and Outstanding Supporting Actress in a Comedy Series and Outstanding Performance by a Youth for the show.
"I feel honored, I feel accepted, and I feel seen," Martin said during her acceptance speech for Outstanding Supporting Actress.
Of course, you can't have an image awards show without the queen. Lizzo was named Entertainer of the Year and talked about body positivity during her speech. "I just want to shout out all of the big Black girls that I bring on stage with me," she said. "I do that because I want them to know that they are the trophies."
https://www.instagram.com/p/B85Y7F3BVdy/?utm_source=ig_embed
She later posted about her win on Instagram, saying in part, "thank you for accepting me for exactly who I am. Loud and proud. Big and beautiful. Perfectly Black in Every Way."
Congratulations to all of the winners.