Barnum's Animal Crackers Ditches The Cages On Their Packaging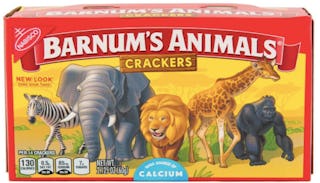 Image via PETA
PETA is celebrating after petitioning the manufacturer for years
They're free, they're free. PETA is celebrating a big win this week, marking the end of a years-long request to redesign Barnum's Animals cracker boxes. After more than a century, the iconic box now shows their animals roaming together instead of living in their boxcar cages, hopefully putting aside their evolutionary differences now that they are free.
Mondelez International, the parent company of Nabisco, redesigned their packages after continued pressure by PETA. The organization has been protesting the use of animals in circuses for more than 30 years and eventually got their wish when Ringling Brothers and Barnum and Bailey officially closed its doors to the public in 2017 after 146 years in business.
"Given the egregious cruelty inherent in circuses that use animals and the public's swelling opposition to the exploitation of animals used for entertainment, we urge Nabisco to update its packaging in order to show animals who are free to roam in their natural habitats," PETA wrote in their original letter to Mondelez International in 2016 requesting the change.
"The new box for Barnum's Animals perfectly reflects that our society no longer tolerates caging and chaining exotic animals for circus shows. PETA is celebrating this redesign just as we've celebrated the closure of Ringling Bros. and Barnum & Bailey Circus and an end to the use of wild animals in many other circuses," they said on their website.
To that end, Mondelez agrees it was time for a change. "To continue to make the brand relevant for years to come, we felt this was the right time for the next evolution in our design, now showing the animals in a natural habitat," they told CNN.
And who can't get behind a company that's been around as long as they have getting with the times and embracing the change. As long as they never change the taste of these animal-shaped mouth parties, there's reason to celebrate. I do feel bad after all they went through to be free my kids will still eat them head-first like ravenous beavers.
The manufacturer has done their part to help with wildlife conservation efforts in the past. According to CNN, they've redesigned their boxes before for limited distribution. Over the years they've offered an endangered species collection, raising money for the World Wildlife Fund, a zoo collection that raised money for the American Zoo and Aquarium Association, and also collaborated with Lilly Pulitzer on a pastel-colored box to raise money for tiger conservation.
I'd say this is win for everyone.