Nail Salon Charges 'Overweight' People More For Pedicures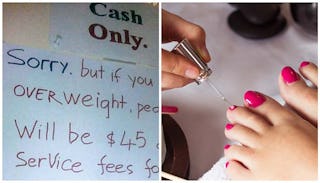 This nail salon's fat shaming policies are a great way to lose business
Going to the nail salon is a tiny slice of heaven. You get to relax, your nails look fabulous when you leave, and if you're really lucky, your salon has those chairs with the built-in back massagers. Getting your nails done is a great way to boost your self esteem — unless you happen to go to Rose Nails in Memphis, Tennessee.
Customer Deshania Ferguson was getting her nails done at Rose Nails when she saw a sign that read "Sorry, but if you are overweight, pedicures will be $45 due to service fees for pedicurists. Thank you!"
Ferguson posted the ridiculous sign on Facebook, where it was quickly passed around.
There's so much WTF going on with a policy like this, it's hard to know where to start. A basic pedicure at Rose Nail costs $25.30. The salon is charging overweight customers over 77% more, because why exactly? And what determines whether or not you're overweight by the salon's standards? The average American woman is a size 14-16, would they be subjected to this fat tax? What about pregnant women? Do they automatically get the fat pricing too? Will stopping for fries on the way to the salon mean having to pony up an additional $19.70?
WREG News Channel 3 decided to find out what this salon could possibly be thinking by adopting such a ragingly discriminatory policy. They met with salon spokesperson Son Nguyen, who claimed the salon has never had such a sign up, despite the fact that the salon background and flooring matches Ferguson's picture perfectly. Nguyen did admit he's considered putting a sign up stating overweight people will be charged more for pedicures, but he decided not to. Not because he sees how grossly unfair such a policy is, but because he's decided that instead of charging overweight people more for the exact same thing, he's going to flat out refuse them service instead.
Nguyen claims his business suffered two broken pedicure chairs after overweight customers sat on them, costing him between $2000 and $2500. He also claims it's difficult for nail technicians to give pedicures to overweight people. Part of owning a business is having to replace and repair equipment. If your chairs are so flimsy they break when a person sits on them, maybe it's time to upgrade to a better model. And as for the difficulty argument, toes and feet are pretty much the same size regardless of how much you weigh. It's not like the salon is going through extra nail polish and needs to make up the cost. This is fat discrimination, plain and simple.
There's no way we'd let this salon anywhere near our toes. But we can think of a finger we'd love to show them.
This article was originally published on