Stick On Sandals Are A Thing And Nothing Makes Sense Anymore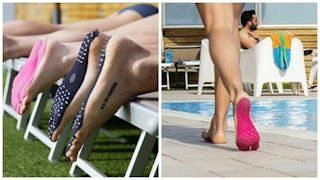 Image via Nakefit/Facebook
Now we can go barefoot without the hassle of actually being barefoot
Just when we thought we'd seen everything fashion has to offer this year, an Italian company is bringing us a foot pad that we can wear instead of shoes. NakeFit soles are designed to give wearers the freedom of being barefoot but will protect those that wear them from rough terrain and heat. Basically it's like an adhesive bra for our feet which makes us sweaty just thinking about it.
According to the company's Kickstarter, the soles — which are offered in black, pink, and light blue – are waterproof, cut-proof, heat-resistant, and slip-proof. If the future sales are anything like their Kickstarter, these guys are in for huge success. They've already raised over $217,000, blowing past their original $22,395 goal.
"Imagine a world where you could just jump and run around without worrying about being barefoot," a promotional video for the company said. "NakeFit is the ultimate way of protecting your feet in every circumstance."
Apparently you can wear them on a hot sandy beach, in the pool, on blacktop and even at the spa. And while it would be nice not to have your feet scorched on a hot summer day, isn't the point of going barefoot so you can feel the sand under your feet? Or the grass between your toes? Or the lukewarm standing shower water at the gym that hundreds of sweaty strangers have stood in before you?
Fine, sign us up.
According to their website, the founders of Nakefit invented these feet adhesives to "keep your feet effectively protected and at the same time support all of the amazing things it can already do." The product is designed in Italy and is "produced without harming people, animals or the environment (vegan and barefoot friendly)." This means vegans can not only tell you that they are vegan, but so is their footwear, making them even more insufferable to be around than they already are.
Interested parties can pledge a range of $39-42 to buy a pack of ten for women, men or babies; though we are unclear how many uses you get from one pack. If they lose their stickiness after one use, you could be looking at almost $4 a pop, which seems a little steep. The stick-on soles can ship to any country in the world beginning in July.
This article was originally published on