Service Dog Falls In Love With Donald Duck, And Now The World Loves Her
by Julie Scagell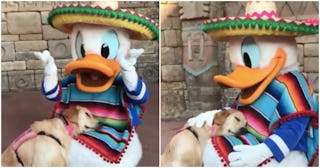 YouTube
In the video, service dog Nala can be seen snuggling into Donald Duck at Walt Disney World
Everyone loves Disney parks. Disneyland and Walt Disney World are magical places for kids and adults alike to get lost in the characters, rides, fireworks, and fun. But apparently, it's also a very special place for one service dog named Nala. On a recent trip to one of the Florida Disney parks, Nala met Donald Duck and the video of the two of them together will make you ugly cry happy tears.
Nala has been a service dog for two years to her mom and handler, Megan Leigh, who has autism. Their favorite place to go together is Disney, and after watching this video you'll see why. According to The Dodo, Nala's favorite activity at Disney is meeting the characters and she took a special interest in Donald, laying her head in his lap and giving him an adorably long cuddle.
"Nala and I have been to Disney more days than I can count," Leigh told The Dodo. "She has stepped foot (or paw) into a Disney park at least 50 separate times. The moment Nala walked up to meet Donald, crowds surrounded and watched in awe." In the video, Nala snuggles into Donald, laying her head on his soft body.
For his part, Donald seemed pretty smitten as well, making it clear Nala could stay with him as long as she wanted. "Nala did not want to leave Donald at all," Leigh said. "She loves him a lot!" The two can be seen giving each other kisses and generally just making the crowd's (and now everyone who has seen the video) heart melt.
Nala is known on Instagram as "Disney's Favorite Dog." The medical response service dog is a regular at the park and if you don't follow her page already, these pictures should do the trick.
https://www.instagram.com/p/B2sal47gsFC/
https://www.instagram.com/p/B2KJCskA5yG/
In one post, Leigh reminds everyone that there are rules when approaching service dogs and tries to educate the public on what not to do. "Don't be dumb(o) and pet service dogs without asking. Not only is it incredibly rude, but it can distract the dog! I have no problem telling people they can't touch Nala when i didn't give permission. I do not tolerate unsolicited pets where people come up and start fluffling her head or grab her tail. Not ok," Leigh wrote.
https://www.instagram.com/p/B2Va5nDg2lc/
It's clear Nala is happiest at Disney and who can blame her?
https://www.instagram.com/p/B13zwwiA1g5/
"Nala is an amazing service dog, who works nearly flawlessly to my standards," Leigh wrote in another post. "I couldn't imagine being without her at this point."