Nancy Pelosi Wore The Same Dress Both Times She Helped Impeach Trump
by Christina Marfice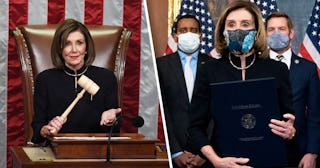 The Washington Post/Stefani Reynolds/Getty
What do you wear to one of the most historic political events of a generation? The same thing you wore last time, according to Nancy Pelosi
It's a historic week in U.S. politics — after he incited a mob that stormed and desecrated the U.S. Capitol Building, Donald Trump just became the first president in U.S. history to be impeached twice. The House approved an article of impeachment Wednesday afternoon with a surprisingly bipartisan vote — 10 Republican members broke with their party and voted in favor of impeachment. So what do you wear to a defining historical event in your country's political history? If you're Nancy Pelosi, you just throw on the same thing you wore last time this happened.
That's right — Pelosi, the Speaker of the House, showed up for the debate and vote over Trump's second impeachment in the exact same outfit she wore for the first one: A navy blue power dress with three-quarter sleeves and a high collar.
The internet was very quick to take notice of this fact. Some women have a funeral dress that lives in the back of their closet. Nancy Pelosi apparently has an impeachment dress, and we are all here for it.
There are even calls for the outfit to be put on display in the Smithsonian Museum, and, not gonna lie, I would take a selfie with it.
Honestly, Pelosi's move is a high point for all of us who were raised by petty grandmothers and mothers. This is exactly the kind of power move they would advocate for and it's making me miss my petty-ass grandma like heck.
From now on, the only style headline I want to see is this one: "Articles of Impeachment Are the Perfect Accessory for Your LBD."
Anybody else ready to go out and buy an impeachment dress now? Has anyone tracked down Pelosi's dress? Where can we get our own?
Trump's second impeachment is likely to be a historic moment in Pelosi's career. While the Senate trial won't happen until after Trump finishes his term, the bipartisan support for the article makes it seem possible that the Senate might vote to convict, which could make Trump ineligible from holding federal office in the future. It would be the first time that happened in U.S. history, and Pelosi would go down in the history books as one of the lawmakers who made it happen. The perfect dress is just the icing on the cake.