Nancy Pelosi Tears Up Trump's Speech At The End Of The SOTU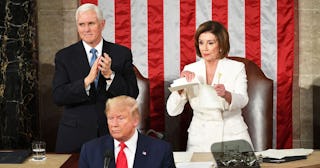 MANDEL NGAN/Getty
Trump seemingly refused to shake Pelosi's hand at the onset of the State of the Union address
From beginning to end, Trump's State of the Union address was anything but the placid annual tradition of administrations past. Several key moments combined to make the U.S. Capitol building feel more like a red-striped circus tent, but the moment that has the outrage machine churning today is when Speaker of the House Nancy Pelosi tore up Trump's speech once he finished making it.
After Trump finished rambling on, patting himself on the back for things he hasn't accomplished, Pelosi tore the speech in half and stuffed it inside an envelope, but not before waving them in the air to show exactly what she was doing.
The tension was palpable with everyone in the room and around the country waiting to hear a President in the middle of impeachment proceedings deliver a public address. After his introduction — in which Pelosi withheld the customary language of it being a "high privilege and distinct honor" to introduce the President — Trump seemingly ignored her outstretched hand and refused to shake it.
The non-civil exchange between Trump and Pelosi at the annual SOTU seemed to have picked up where last year left off – when Pelosi appeared to literally clap back at Trump's words. The moment immediately went viral and every corner of the internet had a NancyClaps.gif at the ready for months. The speech-tearing will likely be no different.
Predictably, lots of people have reactions to Pelosi's actions — because feigning outrage over the tearing of paper is a great distraction from the horrors Trump and his ilk have inflicted on the U.S. for the past three years.
Many people applauded her, and several others chided her for being "immature" and "childish."
Perhaps the most dramatic reaction to the speech-tearing came, predictably, from the White House.
Regardless of your personal feelings over Nancy Pelosi's actions last night, it's pretty hard to pretend her display of frustration is somehow more worthy of outrage than literally anything Trump has said and done during the last handful of years, and the bleak, global aftermath of his presidency.