9-Year-Old Drum Prodigy Absolutely Slays Nirvana's 'In Bloom'
by Julie Scagell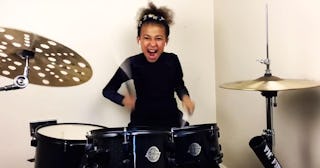 Nandi Bushell/Youtube
Nandi Bushell has the musical skills of someone 3 times her age
You may not know the name Nandi Bushell yet — but that's about to change. During the last year, the nine-year-old drummer has performed with Questlove, Lenny Kravitz, and was featured in the British retailer Argos' holiday advert. It seems like a lot of opportunities have presented themselves for someone her age, but once you hear her perform you'll see this is just the tip of the iceberg for her.
Bushell is from Ipswich, England and has been posting videos online showcasing her mad drumming skills since the age of six. But, it was her latest video drumming alongside Nirvana's hit "In Bloom" that captured the world's attention.
"I can jam to Nirvana In Bloom all day! I LOVE NIRVANA," Bushell wrote. "Nirvana are in my top 5 bands so far. I just found out Dave also played with @jackblack in @tenaciousd, @foofighters and @queensofthestoneage!!!! The film school of rock is the best film in the world." I would agree it's a top five for sure, and so is this incredible performance by a child who hasn't even hit a double digit birthday yet.
Seriously, how does someone so small produce that kind of power?
People are clearly here for someone who, at such a young age, has more talent in their little finger than most of us could hope to achieve in a lifetime.
https://twitter.com/jetpack/status/1195009862997950465
https://twitter.com/jetpack/status/1194754847804968961https://twitter.com/jetpack/status/1195388312174940162
https://twitter.com/jetpack/status/1194813088438063104
Bushell's performance in the Argos ad jamming to Simple Mind's hit "Don't You Forget About Me" is also a performance you really have to see to believe. She most definitely steals the show.
You can also follow Bushell on her Facebook page where she posts her tiny concerts including songs from Nirvana, the Police, System of a Down, Bruno Mars, and Red Hot Chili Peppers. "Follow my journey. I am 9 years old. I #love #music, #singing, #dancing and #acting, most of all I LOVE #drumming #drummer," her page says. Then, aptly, "Account managed by parents."
It's clear by watching her she's a phenomenal talent and that her parents have taken the time to invest in her craft. She throws all of herself into every performance and the sheer joy on her face says it all. It just goes to show how far supporting our kids' interests can take them.
She pays homage to Prince and the iconic Shelia E in this video, saying in part, "I had so much fun jamming to KISS by prince! Been watching loads of @sheilaedrummer videos recently." She definitely has an ear for the greats.
There's nothing on Facebook or her YouTube channel to give fans an idea about what she's planning next, but if I were a betting woman I'd say we'll all be seeing a lot more of Bushell in the not too distant future. Rock on, little lady.