Super Nanny Tackles Package Thief And It's All Caught On Video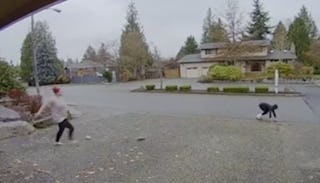 Image via YouTube/Charlotte Alerts
This nanny pulled out all the stops to prevent the family she works for from being robbed
Finding the right person to watch your kids can be a harrowing task. Parents need someone caring, trustworthy, responsible, loving, and obviously someone who can fight off thieves trying to burglarize your home at a moments notice.
Wait, what?
This package thief got a little more than she bargained for when she came across a family's nanny while trying to steal a package off their doorstep. Surveillance footage from their outdoor camera caught the whole thing on video and you really have to see it to believe it.
The video shows a woman jumping out of the passenger side of a car in Everett, Washington on Tuesday, and and booking it towards the front porch of a home. She returns to the car moments later with a large package under her arm. But at the same time Wonder Nanny (aka, Kate Anderson) can be heard yelling, "HEY! What the fuck are you doing? Hey you fucking piece of shit what are you trying to steal."
And it's on.
Whomever was in the car obviously sees what's about to unfold and decides they aren't feelin' it anymore and starts to take off while their partner in crime tries, and fails, to jump into the moving vehicle with the stolen package. She falls and the get-away driver does the respectable thing and just leaves her ass on the ground and speeds away.
Man, I'd love to be a fly on the wall when those two are reunited.
Then the camera shows the woman get up and try to run away but not before Wonder Nanny grabs her and proceeds to walk her back towards the house like a damn professional police officer. The woman can be heard yelling, "Get off me!"
(narrator): Anderson does not, in fact, get off her.
Anderson grabbed her by the arm and nape of the neck and judging by the footage, this thief wasn't going anywhere.
The nanny then held the package thief outside in the family's garage for eight minutes until police arrived and arrested her because she is a badass and of course she did. "If someone is doing something wrong, I'm not afraid to put them in check," Anderson told local Fox station Q13.
"She's just like a straight baller, she's amazing and doesn't take any crap from anybody," Tanya Smith, the homeowner, told KIRO. Anderson watches Smith's one-year-old son, who apparently slept through the entire ordeal. "It's pretty amazing what she did, I'm very proud of her, and I'm not surprised," Smith said.
The local sheriff's office told KIRO they don't recommend trying to apprehend burglars and says in this case, they were lucky no one was hurt. They also mentioned they're hiring right now, you know, in case nannying becomes too dangerous a profession for Anderson in the future.