Nanny Cam Catches Mom Saving Her Toddler From Choking
by Mike Julianelle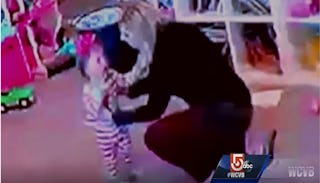 Harrowing video shows quick-thinking mom saving her daughter from choking
When you become a parent, you're flooded with tons of information about how to do this and how not to do that, but if you're lucky, you don't end up needing most of it. By the time you have a second or third kid, you probably end up ignoring most of the instruction you get from friends and strangers.
But thank god one mom paid attention during a hospital baby class, because when her daughter was choking on veggie chips, she knew exactly what to do.
A video from ABC News shows Jennifer Hull saving her one-year-old daughter Hollis from choking on a snack by quickly performing the Heimlich maneuver – toddler-style – until the little girl expelled the offending veggie chip and could breathe freely again.
"I immediately jumped into mommy mode when it happened," Hull said. "It was very scary."
The entire incident was captured on Hull's nanny cam, and it's not exactly a fun watch. Hollis runs over to her mommy, clearly having trouble breathing and gasping for air. Jennifer wastes no time at all, quickly grabbing her daughter and putting her in position to use the proper technique and expel the blockage.
"We sat through every class that our hospital gave," Hull told ABC News. "It's the least that you can do if you're going to bring a baby into the world."
As the father of two boys, one of whom just turned one two days ago and who enjoys getting attention by making fake choking sounds (have kids, they said!), I couldn't agree more.
Little kids are good at a lot of things (just go with it), but chewing and swallowing aren't always among them. Pair that with the fact that they'll literally put every single thing they find in their mouths, and choking's a very real hazard. Jennifer knew exactly what to do, and she's hoping by sharing the incident she might help others.
"At first I was reluctant to share the actual footage of her choking because it's so personal," but, Jennifer added, she wanted to use it to encourage others to learn the proper technique.
"We sat in these classes before we had kiddos and they were teaching us exactly what to do in these moments," Hull explains in the video, getting emotional. "I remember how scared I was. And I'm just really thankful that it went the way it went."
Hopefully, as this video goes around, more parents will make sure they're equipped to handle similar situations so they can have the same happy ending as Jennifer and Hollis.
Here's a quick video from St. John Ambulance that shows how to save a choking baby.
This article was originally published on