We've Found The Perfect Bundle Of Baby Essentials To Gift Any Expecting Parent
by Scary Mommy Team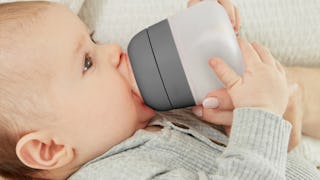 Every parent knows that in the early days, just about all babies do is eat and sleep. Okay, there's also a fair amount of crying, pooping, and spit-up, but we're trying to focus on the cute stuff here, okay? And while it's the sweetest thing on the planet to watch your baby's little mouth move as they hungrily gulp down their dinner (and the tiny infant grunting sounds — we can't even), it's still incredible how exhausting it can be to keep a baby happily fed. We worry about getting the flow just right, causing nipple confusion, and reducing air bubbles that can cause tummy troubles. Many new parents go through several bottles before finally finding one that's just right.
So when you find something that makes feeding time easier, you grab onto it like it's a life raft and share it with every single one of your new-mom friends. Nanobébé's Complete Feeding Set really is like a life raft for new parents. It has everything you need to feed your baby, whether you're bottle-feeding with formula or breast milk. It's the only set we've found that has two different award-winning bottles to fit any feed, literally covering you from the newborn phase all the way to toddlerhood. But more than that, Nanobébé's bottles, nipples, and pacifiers are the perfect blend of style and convenience. If you're looking for the perfect gift for expecting parents (or yourself), read on.
Bottles that Resemble Mom
Because the Nanobébé Complete Feeding Set has two different types of bottles, you can choose what works best for your baby in the moment. The Breastmilk bottles look different from a traditional baby bottle — they're shaped like a breast, making the transition between breast and bottle more instinctual for babies and reducing nipple confusion. Babies love reaching up their tiny dimpled hands to grip the sides of this bottle during a feeding so that you can add more adorable baby pics to the 5,000 you already have on your phone.
These breast-like bottles are perfect for moms who want to breastfeed but also want to share feeding duty with a partner. It's only fair for Mom to get to roll over and go back to sleep for some of those nighttime feedings, right? The unique shape, combined with the matching geometry of the included warmer, makes for quick and even warming so you can get baby fed and back to sleep in less time, and they're the first bottle designed to protect breast milk nutrients. Why didn't anyone think of this before?
The Flexy Silicone bottles that come with the set are equally awesome. Don't let their mesmerizing squishiness fool you — they may be soft and flexy, but they're also sturdy and built to last.
Another part that stands out are the nipples. (Sometimes the jokes write themselves!) The set comes with four slow flow silicone nipples that fit both the Breastmilk and Flexy Silicone bottles. The nipples have a special triple-vented system that reduces fussiness, gas, and tears. Plus, using one of the two breast pump adapters that come with the set, Mom can easily express milk directly into either style of bottle. That means pump, store, warm and feed, all in the same bottle. 10/10, would recommend.
A Paci Babies Love
We love a paci that can soothe our baby without causing nipple confusion. The Nanobébé Complete Feeding Set comes with two super soft Flexy pacifiers designed to do exactly that. with one-piece silicone construction that adheres to American Academy of Pediatrics guidelines, there's no hard plastic, and they won't leave red marks. We've met more than one mom who says these are the only pacifiers their baby will take. And, as many of us learned the hard way, it always pays to have more than one. Some long, sleepless night that would have otherwise been spent pawing around under your baby's crib in the dark while your baby cries, that spare paci really will feel like a life saver.
Design That Works Together
Listen, in those early days with a new baby when you've lost the concept of time and haven't washed your hair in a week, thoughtful design makes a real difference. The folks at Nanobébé clearly know that, because this feeding system works seamlessly, even when you're running on four hours of broken sleep and watching the battery indicator on your brain slip into low-power mode. The bottles, nipples, pacifiers, warmer, and brush — they all work together to make feedings the easiest part of those early, sleep-deprived days.
The warming bowl requires no electricity — all you need is warm water and you're set. That means it's perfect for feedings at home or when you're on the go. You'll never worry about the bottle getting too hot. Ease of cleanup is also on point. The bottles are designed for super easy cleaning — the set even comes with its own bottle brush — so you don't have to obsess over tiny nooks and crannies. The Breastmilk bottle's design makes them easy to stack and store. (If you've ever wrestled a pile of baby bottles while holding a crying baby, you know what a game changer this is!)
Focus On The Fun Parts
All the elements of this innovative, thoughtfully designed gift set add up to one thing: letting parents focus on the best parts of parenting. Whenever you can give new parents one less hassle to worry about, what you're really giving them is the gift of more time with their new baby. Whether they're bottle feeding with breastmilk or formula, the Nanobébé Complete Feeding Set simplifies the logistics of feeding time so new parents can focus on the fun part — the awesome connection that happens when feeding their sweet newborn.
With unmatched convenience and modern style, the Nanobébé Complete Feeding Set provides new parents with everything needed for successful feeds from the newborn stage through early toddlerhood.