Naomi Osaka Tells Megyn Kelly To 'Do Better' After Twitter Exchange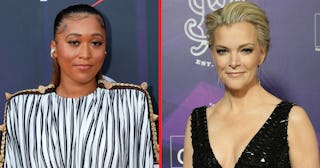 Michael Loccisano/John Medina/Getty
There was absolutely no reason to attack Naomi Osaka for protecting her own mental health, but Megyn Kelly did it anyway
Naomi Osaka is doing a lot to destigmatize talking about mental health — and taking whatever steps necessary to protect your own. She took a $15,000 fine and eventually withdrew from the French Open in May after sparring with tournament officials over their media requirements and saying she wouldn't participate in post-match press conferences because they were bad for her mental health. She opted not to compete in Wimbledon the following month.
What Osaka is doing is brave, and it's obviously what's best for her, since she's literally losing money and playing time by making these decisions. There's no reason to criticize her for any of this — but Megyn Kelly did anyway.
Kelly threw the first punch on Twitter, responding to a conservative sports pundit who wrote, "Since saying she's too introverted to talk to the media after tennis matches, Naomi Osaka has launched a reality show, a Barbie, and now is on the cover of the SI swimsuit issue." Kelly added to the tweet, "Let's not forget the cover of (& interview in) Vogue Japan and Time Mag!"
In a now-deleted response, Osaka wrote, "Seeing as you're a journalist I would've assumed you would take the time to research what the lead times are for magazines, if you did that you would've found out I shot all of my covers last year. Instead your first reaction is to hop on here and spew negativity, do better Megan [sic]."
That's true. Magazines, especially major ones like Vogue and Time, plan their content months and months in advance. But Osaka apparently realized she had better things to do than argue with Kelly, a known troll, on the internet (and good for her!). She deleted her response and apparently blocked Kelly on Twitter, which she shared to her followers as if she's the victim here after she attacked a stranger, unprovoked, on the internet.
Unsurprisingly, many people are coming to Osaka's defense.
Considering Kelly was fired from NBC for going on a lengthy rant about how she didn't understand why blackface is inappropriate for white people to wear on Halloween, well, no one should be surprised by this. Kelly moved to NBC from Fox News, where she also had a history of making racist comments, though it was more accepted there because, you know, Fox News. Now she's attacking a young, successful Black woman online for seemingly no reason? We can all probably take a pretty good guess what the reason actually is.