Naomi Osaka Cites Mental Health In Refusing Press Time At French Open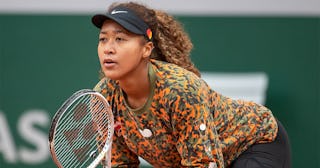 Tim Clayton/Corbis/Getty
Naomi Osaka says she won't do press conferences at the French Open to preserve her mental health, will donate fines to mental health orgs
What is it with the women of professional tennis being absolute queens and badasses? 23-year-old tennis star Naomi Osaka spoke out during the 2020 U.S. Open by wearing masks with the names of Black men and women killed by police on them and now, ahead of the French Open, Osaka is making a bold statement about mental health by refusing to speak during any post-game press conferences.
Athletes are often contractually obligated to speak to the press after games or matches or face fines from their various organizations.
Ask anyone who watches professional sports and they'll tell you how much athletes hate post-game press conferences. Literally, watch any NBA game. Osaka honed in on the psychological aspect of these press conferences, how the interviewers can get in the athlete's head and make them doubt and explain themselves. As far as Osaka is concerned, she's sitting out the next round of interviews at the French Open.
"I've often felt that people have no regard for athletes mental health and this rings very true whenever I see a press conference or partake in one," she wrote in an Instagram post on May 26, 2021. "We're often sat there and asked questions that we've been asked multiple times before or asked questions that bring doubt into our minds and I'm just not going to subject myself to people that doubt me."
Osaka referenced moments where athletes have broken down in tears during press conferences (there are literal listicles devoted to "athletes crying during press conferences") saying, "the whole situation is kicking a person while they're down and I don't understand the reasoning behind it."
Citing her friendly professional relationships with many journalists, Osaka says there's "nothing personal" about her press ban, but she needs to take a stand for her mental well-being.
"If the organizations think that they can just keep saying, 'do press or you're gonna be fined', and continue to ignore the mental health of the athletes that are the centerpiece of their cooperation then I just gotta laugh," she wrote.
She then shared a video of a 14-year-old Venus Williams being interviewed by a man who continually pressed her and asked her "why" she felt confident that she could beat her opponent as if she should be anything but confident. It was infuriating to watch this man cast doubt on this talented young girl's confidence and it gets so bad that Venus' father comes out to tell the grown man to "leave that alone."
Williams actually responded to Osaka's post with fire and heart emojis, writing, "Girl, do you. Your life is yours to live."
Osaka concluded her post with these parting words: "Anyways, I hope the considerable amount that I get fined for this will go towards a mental health charity."
Queen shit. **mic drop** Osaka out.