Naomi Osaka's Now A Bada$$ Barbie You Can Buy For Your Kids (Or Yourself)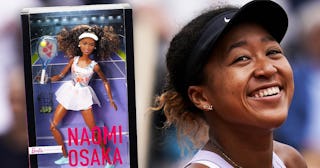 Mattel and KENZO TRIBOUILLARD/AFP/Getty
This is Osaka's second time being honored as a Barbie
Naomi Osaka has been a role model to many athletes and others who've praised the tennis star on her openness to speak out on racial justice and mental health. The 23-year-old is now being immortalized for younger generations as Mattel's latest Barbie doll — the Naomi Osaka Barbie Role Model.
"Known for using her platform to speak out about issues surrounding human rights and racial injustice, Naomi is a force, on and off the court," Mattel said on its website of the doll, now available for pre-order and shipping on August 15 for $29.99. This is Osaka's second Barbie — she was also available as a one-of-a-kind Barbie Shero for the brand's 60th anniversary in 2019.
"It's such an honor to be a part of the Barbie Role Model series, and to remind young girls that they can make a difference in the world," Osaka said in a press release. "I want young girls everywhere to feel empowered to dream big and to know that if they believe in themselves that anything is possible!"
Osaka made headlines when she pulled out of the French Open and Wimbledon, prioritizing her mental health over the game. She issued a statement to explain that, since the 2018 U.S. Open, she's suffered from "long bouts of depression." She explained that speaking to the public and reporters at mandatory press conferences during tournaments gives her "huge waves of anxiety."
"I'm gonna take some time away from the court now, but when the time is right I really want to work with the Tour to discuss ways we can make things better for the players, press and fans," Osaka wrote.
She recently penned an essay for Time Magazine talking about it in more detail and about her journey to the upcoming Tokyo Olympics. "I feel uncomfortable being the spokesperson or face of athlete mental health as it's still so new to me and I don't have all the answers," she wrote. "I do hope that people can relate and understand it's O.K. to not be O.K., and it's O.K. to talk about it. There are people who can help, and there is usually light at the end of any tunnel."
The new Role Model Barbie wears a replica of the outfit she wore at the 2020 Australian Open, a blue-and-pink Nike tank top and shorts with a white skirt.
In addition to the Barbie and the upcoming Olympics in Tokyo, Osaka is the subject of a Netflix documentary miniseries titled Naomi Osaka, premiering July 16, which talks about her childhood and the rise to become a tennis superstar.
More importantly, she's been open about prioritizing her mental health above everything else — a message that is so needed for all ages in all stages of their lives.