11-Year-Old Speaks For All Black Girls 'Whose Stories Don't Make The Front Page'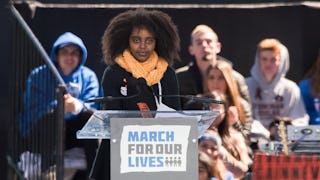 Image via Noam Galai/WireImage
After her brilliant speech at March For Our Lives, one thing is clear: Naomi Wadler for President
When the adults who run this country act more like children than actual children, we're left look to our youth to bring attention to the problems that plague society. Nothing proved that truth more than 11-year-old Naomi Wadler, who delivered the most poised, riveting speech of the day on behalf of all the African-American girls who fall victim to gun violence.
Her message is clear: black girls matter, and all innocent victims of senseless gun violence deserve their place in this movement. Wadler led the walkout at her elementary school on March 14 as part of National Walkout Day, where students all over the country peacefully protested for 17 minutes to honor the 17 lives lost in Parkland last month.
Naomi Wadler and her peers stood outside for 18 minutes. The extra minute was for Courtlin Arrington, a young black girl who was killed in a school shooting in Alabama shortly after the tragedy in Parkland.
"I am here today to acknowledge and represent the African American girls whose stories don't make the front page of every national newspaper, whose stories don't lead the evening news," Wadler said. "I represent the African American women who are victims of gun violence, who are simply statistics instead of vibrant, beautiful girls that fill a potential."
Privilege has been a focal point of the coverage and support surrounding the Parkland students — and it's one they themselves acknowledge and hope to change. The day before the march, students from Marjory Stoneman Douglas High School met with students from Thurgood Marshall Academy in D.C. to open up the dialogue about media bias and how to offer students of color who have been affected by gun violence the same platform the Parkland students have been given.
"For far too long these names, these black girls and women have been just numbers," Naomi told the crowd. "I'm here to say 'never again' for those girls, too."
She is just 11 years old and her stage presence and passionate, confident delivery left me with goosebumps. Why in the world do we ever underestimate children? Didn't Mister Rogers teach us that we're fools if we do?
"People have said that I am too young to have these thoughts on my own," she continued. "People have said that I am a tool of some nameless adult. It's not true. My friends and I might still be 11 and we might still be in elementary school, but we know. We know life isn't equal for everyone and we know what is right and wrong."
Kids today have access to information in ways even millennials did not — the entire world is at their fingertips, so to speak. Why shouldn't they be part of a national dialogue about things that affect their lives directly, like gun violence? When children are getting shot in their classrooms or during their walks home from school or to the store, I'd say all children and teenagers have the right to be vocal in this movement. And the victims Naomi is representing aren't just reading about these heartbreaking tragedies on the internet — they're living them every single day.
Naomi also reminded the crowd that seven years isn't so very long to wait before she and her peers can vote. I know I won't forget her name, not in seven years, not in 20. Wherever she ends up, wherever all young girls like her lead — we should all follow.
"I urge everyone here and everyone who hears my voice to join me in telling the stories that aren't told," she said. "To honor the girls, the women of color who are murdered at disproportionate rates in this nation. I urge each of you to help me write the narrative for this world and understand, so that these girls and women are never forgotten."
This article was originally published on