A Doormat For Nap Time (Or All The Time, Whatever)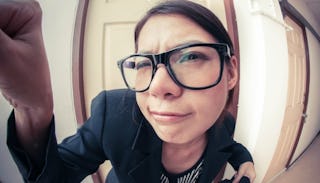 Shutterstock
I really, really hate it when someone wakes my babies up at nap time by knocking just to drop a (no signature required!) package at my door and run.
Even worse? Waking my kids up because you want to give me religious pamphlets and ask me about my spiritual journey.
The ultimate faux pas of nap time? Knocking on the door even though there's literally a neon pink sign that says "Baby and Toddler sleeping. No knocking!" just to have some college-aged dude ask me if I'd like to upgrade "my husband's sports package." Let's just say it was a good thing he was wearing his expensive running shoes that day…
So, if you're like me, and you really appreciate the solitude that nap time brings, or if you really just don't want anyone ever knocking on your door, you need this:
It likely won't prevent your mother-in-law from barging in, and my sister knows she is always welcome (because she comes bearing Starbucks), but it will likely ward off a few of the daytime offenders.
If not? It's a good conversation piece. Or something.
Editors may receive samples and/or a share from purchases made via links on this page.
This article was originally published on