First All-Female Space Walk Canceled Because NASA Doesn't Have Enough Lady-Sized Spacesuits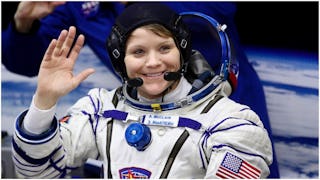 Image via Valery Sharifulin/Getty Images
NASA had to cancel its historic all-female space walk because it doesn't have the right size spacesuits
Is it rocket science to get spacesuits in women's sizes? Apparently. A historic, first-ever all-female space walk that NASA had scheduled for this week is canceled, and the reason is actually because there aren't enough spacesuits in women's sizes to go around. That slap you just felt? That was a big ol' facepalm courtesy of the patriarchy.
NASA astronauts Anne McClain and Christina Koch were supposed to head out into space on Friday, March 29. But apparently just this week, NASA realized they wear the same size spacesuit and there's only one available in that size.
"Mission managers decided to adjust the assignments, due in part to spacesuit availability on the station," NASA said in a statement. "McClain learned during her first spacewalk that a medium-size hard upper torso – essentially the shirt of the spacesuit – fits her best. Because only one medium-size torso can be made ready by Friday, March 29, Koch will wear it."
And so, on Friday, Koch will head out on a space walk with fellow astronaut Nick Hague, and on April 8, McClain is scheduled for a different walk partnered with Canadian Space Agency astronaut David Saint-Jacques.
What makes this even more disappointing is that the historic walk was supposed to take place during International Women's Month. Women everywhere are now feeling the sting of being so close to such a cool, history-making accomplishment, just to have it taken away, and for the dumbest reason. Like, is it really that hard to know ahead of time what size spacesuits women wear and plan accordingly? This clearly isn't a problem for male astronauts, since they go out in space as part of all-male teams all the time, and have literally since humans first went to space. Ugh.
Women have been taking to social media to vent their frustration about this, and the comments really spell out how we're all feeling.
And no, there's no word from NASA about whether an all-female walk will be rescheduled any time in the future. Presumably, that can't happen until another spacesuit in the correct size can be made ready, if there's even one on board the International Space Station already. If there's not, one will have to be delivered, and as you can imagine, delivering supplies to literal space is no small feat and takes time.
The plan was also to have three women, flight director Mary Lawrence and flight controllers Jackie Kagey and Kristen Faccio, providing ground support during the walk. NASA hasn't said whether they'll still be at the control panel on Friday, but all-female-except-for-one-astronaut space walk really doesn't have the same ring to it.
While this is disappointing, there's hope for the future. More and more women are joining NASA these days, and both Koch and McClain graduated from the 2013 class, which was 50 percent women. Eventually, we'll get our space walk, and it'll be even sweeter for having had to fight for it.
This article was originally published on