The First All-Woman Spacewalk In NASA History Is Happening Right Now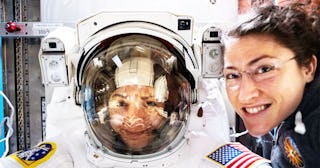 NASA/Twitter
Today, a team of women made NASA history
As we're all waking up this morning, we might not be aware that history is being made, right this minute, miles and miles above our heads. Today, at the International Space Station, NASA held the first-ever all-woman spacewalk in its history, sending astronauts Christina Koch and Jessica Meir into space to repair a failed power controller for the station.
NASA is streaming the event live on its website and Twitter as it happens. Koch and Meir left the spacecraft just before 9 a.m. Eastern, and they're planning to be out in open space for close to six hours today. That means, if you haven't tuned into the live feed yet, you might still have time.
Koch is the astronaut with the red stripes on her suit, according to a NASA press release. Meir is the astronaut with no stripes on her suit. It's Koch's fourth spacewalk, and Meir's first.
You can also watch first-person views from the women's helmet cameras to really see what they're working on.
The photos are nothing short of awe-inspiring.
People all over the world are watching as the two women make history, and we can only imagine how many women and girls are being inspired by watching this happen.
People watching live have also been sending their questions about the spacewalk in to NASA to be answered on social media.
Seriously, if you're not following along on the International Space Station's Twitter account, you should get on that. So many cool ways to learn new things about space and the space station today.
While this spacewalk is absolutely historic and absolutely making us shed a few tears into our coffee this morning, it's also been a long time coming. Back in March, NASA announced that the first-ever all-female spacewalk would be happening that month. Koch and astronaut Anne McClain were scheduled to go into space together, making history, more than six months ago, but then that spacewalk was canceled for what felt like a truly ridiculous reason: NASA didn't have enough space suits available in the right sizes to fit women. Women everywhere collectively groaned at how we got so close to making history and then it didn't happen for that reason.
But finally, it's happened. It is happening, right now. Finally, women are making history in space, right before our own eyes. And this won't be the last time. Women will continue to break down barriers, both on Earth and in space, and we'll be watching as those moments happen, too.