'Nashville' Star Cuts Off Her Hair to Send A Powerful Message About Beauty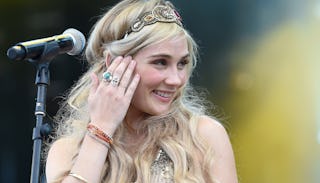 Cutting off all your hair can mean a dramatic change in your everyday look or how long you spend under a blow dryer, but that's usually about as deep as the transformation goes. Nashville actress Clare Bowen recently decided to chop off all of her hair, and she did it for a decidedly different reason.
In a breathtaking and beautiful Facebook post, Bowen writes that she was diagnosed with nephroblastoma when she was four years old and spent much of her childhood in the hospital with other sick kids.
"Life in the White Palace (Granddad's nickname for hospital) meant I got to grow up surrounded by children just like me. We were mostly bald, all tubed, taped, bandaged up and stitched back together. We were all missing parts, some obvious like eyes or legs, others more hidden, like lungs and kidneys. Those who still could, tip-toed around like little fairies because chemotherapy had destroyed the muscles in our legs and it hurt to put our heels on the floor. But we were all together, so no one's appearance came into question. No one got laughed at or teased. We were all we knew."
Bowen got lucky, she adds, and made a full recovery. Her hair grew back and life returned to normal. Recently, she heard a story about another little girl who said she "couldn't be a princess because she didn't have long hair." Bowen writes, "I wanted her, and others like her to know that's not what makes a princess, or a warrior, or a superhero. It's not what makes you beautiful either."
Bowen decided to chop off her long hair to inspire others to think twice before judging someone based on their appearance. She got permission from ABC and Nashville creator Callie Khouri to make the change to her character on the show as well. She adds, "If it makes even one person think twice about judging another, then in some small way, the world is better. Self-esteem takes a lot longer to grow back than hair."
Most of us can't relate to Bowen's story of being a childhood cancer survivor, but almost everyone can think of a time when they've been judged for the way they look or felt "ugly" because they didn't fit into society's rigid standards. Too many of us think we have to style our hair a certain way or possess an ideal body type in order to be considered beautiful, but as Bowen reminds us, we're perfect just the way we are.
As parents, we have an uphill battle instilling that lesson in our children, and it's wonderful to have a successful Hollywood actress like Clare Bowen helping out. There is power in being who you are and in owning the stories, experiences, so-called flaws, and imperfections that make you unique. Hopefully her message will reach those who need it most and help us all to remember what really matters.