Election Night Cocktails: The Nasty Woman And Bad Hombre
by Jerriann Sullivan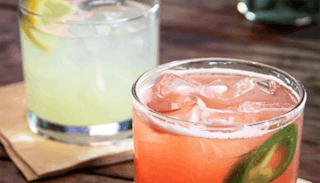 View various takes on the nasty woman and bad hombre cocktails
Be honest, this election has made you want to chug tequila in front of the television at 8 a.m. at least once. Well, rejoice friends, because the end of this horrid election cycle is finally here. We've got some cocktail recipes for you to sip (or chug) while ringing in our new president.
Introducing the Nasty Woman and the Bad Hombre cocktails. Donald Trump dropped various sexist and racist comments throughout the election. But the internet felt so strongly about these two hateful utterances that people flocked to their bar carts to craft the perfect cocktail. The best part is that they're are tons of variations of the Nasty Woman and Bad Hombre cocktails.
First up, the Nasty Woman featuring tequila.
Most tequila-based Nasty Woman drinks follow this recipe:
Three parts silver tequila (made by the "bad hombres" of Mexico).
Two parts cherry juice and one part lime juice. Pour over ice and top with sparkling wine or sparkling limeade. Garnish with a wedge of lime.
Although we do love how one woman changed up the recipe.
If tequila isn't your jam, try out the Nasty Woman featuring your old friend vodka.
We like this recipe from Mother Jones, but this restaurant also has the right idea.
And if you're a Nasty Woman that loves bourbon then you'll want to try this one.
Now, let's not forget about the Bad Hombre.
We're loving the citrus influences in this version.
And this version has brandy in it.
This one looks like a fancy White Russian.
We've seen a few Bad Hombre recipes floating around the interwebs, but the Mother Jones one sounds pretty tasty.
1 dash chili bitters.
2 dashes chocolate bitters. 1/4 ounce creme de cacao (Tempus Fugit brand). 3/4 ounce Cocchi di Torino vermouth. 2 ounces Ilegal Reposado. Stir well over ice, pour into a cocktail glass, garnish with a small chili de arbol balanced on the rim and a sprinkling of fresh cinnamon.
If boozy cocktails aren't your thing maybe your barista will hook you up with something like this.
Will you be making the Nasty Woman or Bad Hombre? How will your family celebrate Election Night? Tell us in the comments.
We know one lady who'll be ready for a drink tomorrow.
[free_ebook]