These Wines Are Perfect For The Nasty Women In Your Life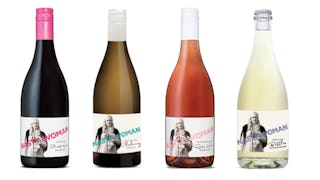 Image via VineSpring
This line of 'nasty' wines pairs well with parity
Things have been pretty terrible in the White House lately (like, more terrible than usual) — which means we all need to stay loud, stay strong, and stay very, very nasty. If you'd like a little boost, look no further than Nasty Woman Wines (yes, that's a thing!) The bottles are fun, have a progressive edge, and are sold for a good cause. Important side note: they'll also probably get you nice and tipsy in the process, which isn't the worst thing in the world.
Now, before you start guzzling, let's breakdown what exactly Nasty Woman Wine is. The brand says their beverages are "unapologetically tasty and designed to celebrate women while energizing people for a cause." It's made for women who are "leaders and fighters, and believe in equality for everyone, regardless of race, class, gender, creed, and sexual orientation."
Also, 20% of net profit is donated to organizations that are pushing forward the fight for women's equality in policy and leadership positions. I'll drink to that.
If you're nasty, and want to get tipsy, here are a few of your options.
You're going to need your very best white pantsuit for this one. There are notes of "rose, earth and cherry" (yes please), and it's perfect for nights when you and your best pals are discussing closing the gaps in inequality and fighting for your rights. Also, site note, this will go very well with lots of cheese.
This one is "racy and bright with a zip of acidity running through lush fruit." I, personally, resolve to drink this one while deleting every single use of the word "sorry" from my emails. Also the words "just wondering." There are a lot of "just wonderings."
This Rosé is for all those Nasty Women who are bubbly, bright, and like a splash of pink in their lives. But, also, don't fuck with them because they are strong and they will fight. Also, it "balances bright acidity with soft, subtle red fruit"…so, yum.
Shout-out to all those boss ladies out there. The ones who speak up in meetings, aren't embarrassed to state their opinion, and ask for what they want. You are my heroes. Enjoy all the bubbles — you deserve it.
Now, get out there, be nasty, and persist. Killer pantsuits not mandatory, but encouraged.